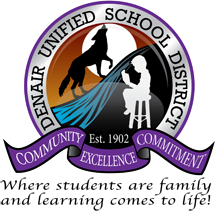 Submitted by Denair Unified School District
The Denair Unified School District Board of Trustees said goodbye to its popular superintendent, approved a one-time salary increase for teachers and agreed to refinance its debt to save money at a busy meeting Thursday night.
Superintendent Aaron Rosander – who inherited a district threatened with state takeover in 2014 – leaves it in much better financial shape than we he arrived. Enrollment has stabilized, new programs and an energetic leadership team are in place, and employee morale is definitely on the rise.
"Mr. Rosander, you changed the face and name of Denair. We were down and out and almost taken over. Thank you," said Trustee Kathi Dunham-Filson.
Echoed Board President Ray Prock Jr.: "We wouldn't be here today without you. … We are forever grateful."
Rosander, whose daughter recently graduated from Denair High School, intends to move to the Bay Area to be closer to his elderly parents. He called educators "dream builders" who provide inspiration and guidance to students.
"It's been a nice ride the last 4½ years," he said. "Denair has been very good to my daughter and I. … It has been my honor and pleasure to work with you."
Before the tributes to Rosander, trustees unanimously approved a one-time 4.31% payout to teachers based on their 2017-18 salaries. It is not a raise in their base pay, but "continues to show the board's commitment to and respect for our teachers," Rosander said.
Prock, Dunham-Filson and John Plett supported the proposal. Trustees Crystal Sousa and Regina Gomes were not at Thursday's meeting.
Teachers took an 8% salary cut in 2013 when the district was in financial crisis. Some of that money since has been restored, with permanent increases tied to specific gains in enrollment. Thursday's action will cost the district $207,500.
Earlier this year, trustees agreed to a similar one-time payout to non-teaching staff. Continue reading "Denair School Trustees Honor Outgoing Superintendent, Reward Teachers and Refinance Long-Term Debt" »