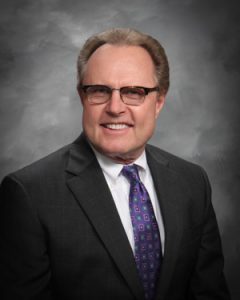 Submitted by Denair Unified School District
An emotional Aaron Rosander announced Thursday night that he will not return as the Denair Unified School District superintendent after his contract expires at the end of June. School board President Ray Prock Jr. said a search for Rosander's replacement will begin immediately.
Rosander, 61, came to the district in February 2014 from Mariposa, where he was the county schools superintendent. In Denair, he took over a district in severe financial distress that barely had avoided state takeover by layoffs and salary cuts.
Within two years, the district no longer required budget oversight from state and county schools officials. Under Rosander, Denair opened a popular new elementary charter school, expanded programs at all four campuses, partially restored salaries, worked to restore community trust and successfully repelled an effort by Turlock Unified to take over some of Denair's territory.
Rosander read a letter at Thursday's monthly Board of Trustees that he sent Friday morning to all district employees. In it, he acknowledged the difficult choices he initially confronted as well as the pivotal decisions that lie ahead.
"As I look back on our past four years, I am reminded of the many chapters of our bold work to overcome the formidable challenges that threatened the very existence of our schools," he said. "And, while the work that we ventured into is not entirely complete, we can declare that we now stand on solid ground and be proud of the powerful platform we have set for our schools in future years."
Without unveiling specifics, Rosander intimated that major changes could be coming to the district, which still faces chronic enrollment issues. Even as it has added youngsters at Denair Elementary Charter Academy thanks to the dual immersion language program, the number of students at Denair High School and Denair Middle School continues to decline.
DUSD enrollment peaked at 1,600 students in 2008, but had declined to less than 1,400 by the time Rosander arrived in 2014. It dropped to 1,275 two years ago and then crept above 1,300 last year, but receded back to 1,272 today.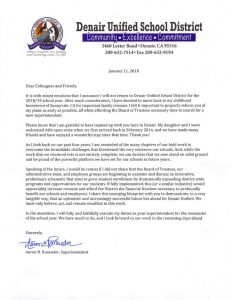 "The Board of Trustees, our administrative team and employee groups are beginning to examine and discuss an innovative preliminary schematic that aims to grow student enrollment by dramatically expanding districtwide programs and opportunities for our students," Rosander said. "If fully implemented, this would appreciably increase our revenue and afford the district the financial freedom necessary to profoundly benefit our schools and employees."
Prock said the district will move quickly to identify Rosander's replacement. He directed Chief Budget Officer Linda Covello and attorney Roman Munoz to identify potential recruitment firms by Jan. 18, with the goal of hiring one soon after to lead the search for the next superintendent. Rosander's current salary is $137,703.
Rosander will remain on the job until the end of June, after his daughter graduates from Denair High in May. He plans to move to his hometown of Sunnyvale to be closer to his elderly parents.
Prock was complimentary of the legacy Rosander will leave in Denair.
"Denair Unified is in a much better place because of Mr. Rosander," he said. "The board is extremely grateful for what has been, and will be, accomplished during Mr. Rosander's time in Denair. The board remains committed to the continuance of the mission and vision for education in Denair Unified that Mr. Rosander was integral in crafting."
Rosander is a former science teacher and state educator of the year. In addition to his tenure in Denair and Mariposa, he has worked in Hollister, Tulare County, Calaveras County and Nevada County.
In other action Thursday night, trustees:
Accepted a report about Denair High from Western Association of Schools and Colleges, which evaluates schools. Among the recommendations from the team that spent three days on campus in November: increase the college-going culture, continue to add college-prep courses, implement more technology and data analysis into instruction, vertically align instruction with the middle and elementary schools, and reduce turnover among staff and administrators.
Unanimously passed a resolution in support of the Deferred Amnesty Deportation Act, or DACA, that would allow more than 700,000 teens and young adults who were brought into the United States illegally as young children to remain in the country. The Trump administration has set a March 5 deadline to deport the so-called "Dreamers" unless immigration reform is passed in Congress. Earlier this week, a federal judge in California ruled against immediate deportations, but the threat still exists. "No matter where you're born, you're entitled to an education," said Trustee Kathi Dunham-Filson.
Hired Pro-Ex Construction of Rancho Cordova for $122,400 to paint the exterior of Denair Elementary Charter Academy.
Accepted an independent audit report for the 2016-17 school year from Vavrinkek, Trine, Day & Co. of Fresno that says the district's financial accounting is accurate and fairly presented. A few minor suggestions of how to better handle petty cash in some student and parent club accounts at Denair High already have been implemented.
Agreed to open negotiations with the California School Employees Association, which represents the classified (non-teaching) staff in the district.