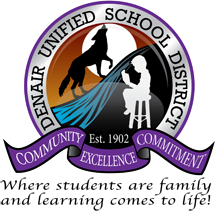 Submitted by Denair Unified School District
The Denair Unified School District Board of Trustees said goodbye to its popular superintendent, approved a one-time salary increase for teachers and agreed to refinance its debt to save money at a busy meeting Thursday night.
Superintendent Aaron Rosander – who inherited a district threatened with state takeover in 2014 – leaves it in much better financial shape than we he arrived. Enrollment has stabilized, new programs and an energetic leadership team are in place, and employee morale is definitely on the rise.
"Mr. Rosander, you changed the face and name of Denair. We were down and out and almost taken over. Thank you," said Trustee Kathi Dunham-Filson.
Echoed Board President Ray Prock Jr.: "We wouldn't be here today without you. … We are forever grateful."
Rosander, whose daughter recently graduated from Denair High School, intends to move to the Bay Area to be closer to his elderly parents. He called educators "dream builders" who provide inspiration and guidance to students.
"It's been a nice ride the last 4½ years," he said. "Denair has been very good to my daughter and I. … It has been my honor and pleasure to work with you."
Before the tributes to Rosander, trustees unanimously approved a one-time 4.31% payout to teachers based on their 2017-18 salaries. It is not a raise in their base pay, but "continues to show the board's commitment to and respect for our teachers," Rosander said.
Prock, Dunham-Filson and John Plett supported the proposal. Trustees Crystal Sousa and Regina Gomes were not at Thursday's meeting.
Teachers took an 8% salary cut in 2013 when the district was in financial crisis. Some of that money since has been restored, with permanent increases tied to specific gains in enrollment. Thursday's action will cost the district $207,500.
Earlier this year, trustees agreed to a similar one-time payout to non-teaching staff.
Two other decisions also have long-term financial implications.
The board agreed to refinance$6,635,000 in construction bonds issued in 2008 to take advantage of lower interest rates (3.32% today vs. 5.02% then). It will save taxpayers — who repay the bonds via their property taxes – an estimated $883,203 in interest charges between this year and 2033, when the bonds will be retired.
Trustees also decided to issue up to $2 million in new bonds to pay off certificates of participation related to the construction of Denair Middle School. That is estimated to save the district $123,000 in interest payments per year through 2024.
In other action Thursday, trustees:
Voted unanimously to implement the Share 911 program, a computer-based application that allows school officials to quickly communicate and share information with staff during a critical incident such as a lockdown or active shooter situation. The annual cost of $3,600.
Held brief public hearings on the proposed 2018-19 budget as well as the Local Control Accountability Plan (LCAP). Both items will be back for formal approval at a special board meeting June 28. Next year's budget is estimated at $14,069,859, more than $2 million less than the district estimates it will spend this fiscal year, which ends June 30. The difference reflects one-time investments this year in salary payouts to staff, technology upgrades, textbooks, and teacher training and other professional development. LCAP is required by the state. It is a narrative version of the budget and lays out how much will be spent to achieve the various goals, explained Chief Business Officer Linda Covello. It was created after a series of three meetings with stakeholders, including community members and staff.
Agreed to raise lunch prices from $2.25 to $2.35 for the next school year. It is part of planned 10-cent increases at the beginning of next few years.
Approved making high school-level Spanish, art and math courses available to middle school students. The classes will count toward high school graduation requirements.