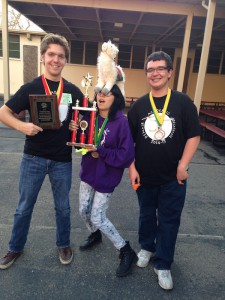 Submitted by Denair Unified School District
Jennifer Calderon said she didn't feel comfortable as she began the interview portion of the 35th annual Stanislaus County Academic Decathlon on Friday.
You sure couldn't tell from the results.
Calderon was one of three Denair High School students to win gold medals as the Coyotes finished an impressive third overall. Lewis Koehn and Noah Johnson also earned individual championships for Denair, which was the highest-performing small school for the fifth year in a row.
Oakdale and Ceres – schools with many times the enrollment of Denair – finished first and second, respectively, out of 12 high schools.
The event began Friday night with the speech and oral interview competitions at Enochs High School in Modesto. It finished Saturday afternoon when hundreds of the area's brightest students converged on the Modesto High School gym for individual tests in math, language and literature, economics, science, social science, art and music.
Athletes are divided into three divisions based on grade-point average – honors, varsity and scholastic. Each school enters three students per division. There also is a category for alternates. Many of the tests revolve around a theme; this year's was "New Alternatives in Energy: Ingenuity and Innovation."
Calderon, a senior, has competed in three decathlons before, but said she wasn't confident heading into Friday's interview in the honors division. This year, there were two judges instead of three to conduct the one-on-one interviews.
"It's nerve-wracking in the sense it's very intimate. You're only a few feet away from the judges," she said. Continue reading "DHS Academic Decathlon Team 1st Among Small Schools" »