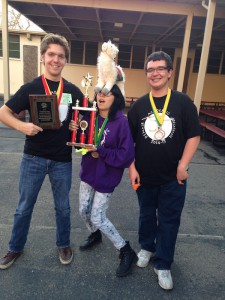 Submitted by Denair Unified School District
Jennifer Calderon said she didn't feel comfortable as she began the interview portion of the 35th annual Stanislaus County Academic Decathlon on Friday.
You sure couldn't tell from the results.
Calderon was one of three Denair High School students to win gold medals as the Coyotes finished an impressive third overall. Lewis Koehn and Noah Johnson also earned individual championships for Denair, which was the highest-performing small school for the fifth year in a row.
Oakdale and Ceres – schools with many times the enrollment of Denair – finished first and second, respectively, out of 12 high schools.
The event began Friday night with the speech and oral interview competitions at Enochs High School in Modesto. It finished Saturday afternoon when hundreds of the area's brightest students converged on the Modesto High School gym for individual tests in math, language and literature, economics, science, social science, art and music.
Athletes are divided into three divisions based on grade-point average – honors, varsity and scholastic. Each school enters three students per division. There also is a category for alternates. Many of the tests revolve around a theme; this year's was "New Alternatives in Energy: Ingenuity and Innovation."
Calderon, a senior, has competed in three decathlons before, but said she wasn't confident heading into Friday's interview in the honors division. This year, there were two judges instead of three to conduct the one-on-one interviews.
"It's nerve-wracking in the sense it's very intimate. You're only a few feet away from the judges," she said.
The interviews last just 7 minutes. Judges give the students 30 seconds to talk about their background, and then ask questions based upon that. Competitors are scored on their delivery, poise, content and ability to be articulate.
Calderon said she talked about how she volunteers at her church and her plans to attend CSU Stanislaus to study economics. She wants to be a teacher – first in high school and later at the college level. "I told them I want to help students," she said.
She earned 960 points out of a possible 1,000 for her interview, but didn't find out she won until all the results were announced before an enthusiastic crowd at the end of the day Saturday. She also was fourth in art and fifth in language and literature.
"She wasn't feeling that great about it at the end of the interview, but obviously she did very, very well," said first-year Denair coach Sean Pham.
Koehn and Johnson, both juniors, also had reason to celebrate gold medals Saturday.
Koehn was first in varsity math, a 30-minute test that blended algebra, geometry, calculus, trigonometry, statistics and other math concepts. To show how difficult the test was, Koehn won by correctly answering 16 of the 35 questions.
"I thought I did OK because I knew I got some problems right," he said. "I had no idea I was going to get a gold medal. … It's exhilarating. You're just filled with joy."
Competing in his first decathlon, Koehn also won fifth-place medals in interview and economics.
Johnson was on Denair's team last year as a sophomore. He earned his gold medal in language and literature in the scholastic division. The test involved answering 50 multiple-choice questions about a short story students read for the first time Saturday as well as queries about Annie Dillard's "Pilgrim at Tinker Creek," which Johnson first read last summer.
Johnson knew he had won some kind of medal when he joined the top finishers on the stage. The results are announced fifth place to first, so the longer he went without hearing his name, the higher he knew he finished.
"After they called the fourth-place person, I was pretty happy to think I could get third," he said. "It was pretty exciting to finish first."
Collectively, the 16-member Denair team brought home 38 medals. Andrew Knapp, competing in the honors division, won seven, including second place in music.
Asked how proud he is of his team, Pham said, "I have no words." He also admitted to shedding a few tears when the champions were announced.
"You know the kids worked really hard and to see them win, there's a real strong emotional reaction," he said. "… I think my excitement parallels the students. I was living vicariously through them."
Calderon, Koehn and Johnson all said competing in the decathlon was one of the highlights of their high school years. The team began practicing when school began and often had all-day cram sessions on Saturdays.
"For me, it gets my adrenaline running. I thoroughly enjoy the experience," Calderon said. "At the end of it, I was exhausted."
Here is a complete list of Denair's medalists:
Andrew Knapp (honors): Silver in music, bronze in speech, bronze in science, bronze in language and literature, fifth in essay, fifth in economics, fifth in art
Jennifer Calderon (honors): Gold in interview, fourth in art, fifth in language and literature
Garret Shults (honors): Fourth in economics, fifth in science
Lewis Koehn (varsity): Gold in math, fifth in interview, fifth in economics
Eva Olivas (varsity): Bronze in speech, bronze in math, fourth in language and literature
Noah Johnson (scholastic): Gold in language and literature, silver in economics, bronze in art, bronze in music, bronze in social science, fourth in science
Carter Lawson (scholastic): Fourth in language and literature, fourth in art, fourth in social science, fifth in science
Alexis Brantley (scholastic): Bronze in language and literature
Jordan Sandoval (alternate): Silver in economics, fourth in science, fifth in math
David Sweeten (alternate): Bronze in economics
Brandon Bettencourt (alternate): Fourth in social science, fifth in economics
Shawn McVeigh (alternate): Bronze in science, bronze in social science
Jesse Orozco (alternate): Bronze in social science