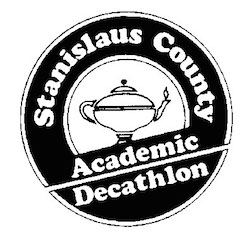 Submitted by Denair Unified School District
Months of intense study, Saturday cram sessions and practice tests are over for the Denair High School Academic Decathlon team. The 16 students are as prepared as they can be and enter the countywide competition expecting to continue an impressive legacy – Denair has won the small-school championship in Stanislaus County the past five years.
"We have high hopes," said first-year coach Sean Pham.
The 35th annual countywide competition is a two-day series of oral interviews, speeches and tests revolving around this year's theme of "Renewable Energy."
Friday night, Denair and more than a dozen other teams will gather at Enochs High School in Modesto for the speech and interview portions of the competition. Three judges will talk individually with each team member. Saturday, everyone moves to Modesto High School for tests in math, language and literature, economics, science, social science, art and music.
The overall champion and runner-up regardless of enrollment advance to the state finals in March in Sacramento.
The members of Denair's team are Brandon Bettencourt, Alexis Brantley, Jennifer Calderon, Jacklyn Gonzales, Noah Johnson, Ryan Kisner, Andrew Knapp, Louis Koehn, Carter Lawson, Shawn McVeigh, Eva Olivas, Jose Orozco, Alexis Padilla, Jordan Sandoval, Garrett Schults and David Sweeten.
The team has been practicing since before school started in August, Pham said. Denair is one of the few schools that set aside a period each day for Academic Decathlon students. The Coyotes also have cram sessions every other Saturday, where former students often return to serve as mentors.
"They give feedback and act like judges," Pham said.
Thursday was the final all-day cram session with Pham and former coach Paul Michaelis, who now teaches math at Hughson High School. Team members wore purple sweatshirts then, but their outfits will be much nicer for the competition – dresses for the girls, and ties and sports coats for the boys.
"It's just like going to a job interview," Pham said.
Pham teaches Advanced Placement English and other classes at Denair High, but this is the first time he's been involved with the Academic Decathlon team.
"It's really opened my eyes," he said. "I know how hard the kids worked. It's helped my instruction because I see how kids learn to process lots of information in a short amount of time."
Thursday, the teens munched on sandwiches, chips, soft drinks and cookies during a break.
"It's amazing how hungry they get working their minds this hard. It's just like an athlete," Pham said.
The students are recruited based on recommendations from other teachers at the high school. Team members must commit to the grueling schedule. Of the 16 students, there are nine "starters" and seven "alternates." All will compete in the decathlon. Team results are based on the top six results of the starters.
"I've never been to a decathlon before," Pham admitted. "I'm very nervous, but's a good nervous. I think our team is going to do well."