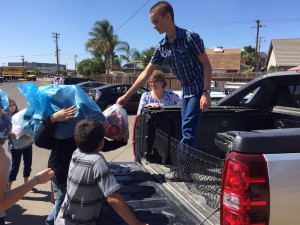 Submitted by Denair Unified School District
The Denair community as well as students at two campuses contributed in a big way to an impressive relief effort for people affected by the Butte fire in Calaveras and Amador counties.
Water and non-perishable food. Clothing, blankets and bedding. Toiletries, toothpaste and diapers. Toys and games. Pet food. Even 60 to 70 100-pound bales of hay for hungry horses.
It will take a small convoy of trucks, trailers, SUVs and other vehicles to transport it all Friday afternoon to various places in Calaveras County.
Since it began Sept. 9, the Butte fire has burned more than 71,000 acres, destroyed 365 homes and 261 outbuildings, and damaged 26 structures. Friday morning, Cal Fire estimated containment at about 60%.
The idea to help fire victims began Monday among students and staff at Denair High School and Denair Middle School.
At the high school, student Destiny Silva organized the effort. At the middle school, campus supervisor Melissa Oei – who used to live in Valley Springs, not far from the fire — has friends who have lost their homes. Students in the leadership club found out and decided they wanted to pitch in.
By midday Friday, donations were overflowing from the middle school library into the hallway outside Principal Travis Manley's office. At the high school, cartons of water, boxes of food, piles of blankets and other items were stacked high in a vacant room across from Principal Alecia Myers' office. Continue reading "Generosity Reflected in Community Response to Fire Relief Efforts" »