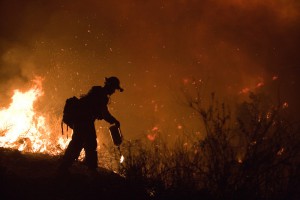 Submitted by Denair Unified School District
Students and staff at two campuses in the Denair Unified School District are leading a community relief effort to help people affected by the Butte fire in Calaveras and Amador counties.
Donations of clothing, toiletries, water, non-perishable food, blankets and other basic necessities will be accepted at the main offices at Denair High School and Denair Middle School between 7:30 a.m. and 4 p.m. Both campuses are located on Lester Road.
The Butte fire has burned more than 71,000 acres since it began last week. An estimated 135 homes and more than 80 other buildings have been destroyed, and thousands of people were told to leave their houses over the weekend.
The impetus to help fire victims began Monday among students and staff at both campuses. At the high school, student Destiny Silva organized the effort. At the middle school, campus supervisor Melissa Oei – who used to live in Valley Springs, not far from the fire — has friends who have lost their homes. Students in the leadership club found out and decided they wanted to pitch in.
Donations will be accepted through lunch time Friday.
High school Principal Alecia Myers said Silva and her family intend to take what is collected to one of the relief stations in Calaveras County. Middle school Principal Travis Manley said he will drive the goods from his campus to a friend from Calaveras County and she'll take it to the Red Cross or Resource Connection in San Andreas.
Anyone with questions should call the high school office at (209) 632-9911 or middle school office at (209) 632-2510.