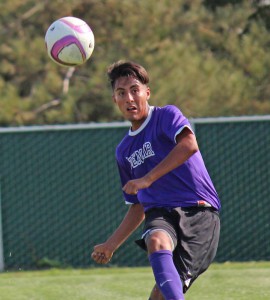 Submitted by Denair Unified School District
First-year Denair High School soccer coach Greg Gaudio quietly hopes his Southern League opponents take his young team lightly. And though the Coyotes have struggled the past few seasons, they appear primed to make some noise this fall.
They're off to a 3-0 start behind the powerful offensive duo of seniors Francisco Licea and Isaac Starks.
The Coyotes opened with a dominating 8-3 victory at Hughson behind Licea's four goals and three more from Starks. The defense limited the Huskies to five shots.
Then, the Coyotes took care of a strong Rio Vista team 3-1 at home, with Licea scoring twice and Starks adding the third goal. Freshman goalie Uriel Gonzalez made eight saves.
Starks nailed four goals and Licea had three assists in a 6-2 home victory over Big Valley Christian. Freshman Seth Martinez and sophomore Oscar Garcia also scored.
It all adds up to an impressive start for a Denair team that won just two out of 14 Southern League games last season. Part of the credit goes to Gaudio, a longtime youth and travel soccer coach in the region who played collegiately at CSU Stanislaus. He admittedly didn't know much about his team as practice began last month, but says the early results are encouraging.
"I've changed the positions of a lot of players to get them in a position to where they can naturally excel," Gaudio explained. "You can tell it's really helping the team. It's allowing them to be a team. Everybody is playing together. It seems to be working." Continue reading "Coach of DHS Soccer Team Satisfied to be 'Under the Radar'" »