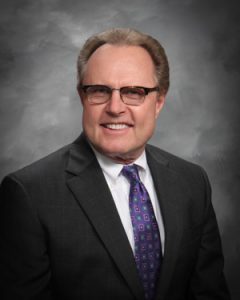 Submitted by Denair Unified School District
An emotional Aaron Rosander announced Thursday night that he will not return as the Denair Unified School District superintendent after his contract expires at the end of June. School board President Ray Prock Jr. said a search for Rosander's replacement will begin immediately.
Rosander, 61, came to the district in February 2014 from Mariposa, where he was the county schools superintendent. In Denair, he took over a district in severe financial distress that barely had avoided state takeover by layoffs and salary cuts.
Within two years, the district no longer required budget oversight from state and county schools officials. Under Rosander, Denair opened a popular new elementary charter school, expanded programs at all four campuses, partially restored salaries, worked to restore community trust and successfully repelled an effort by Turlock Unified to take over some of Denair's territory.
Rosander read a letter at Thursday's monthly Board of Trustees that he sent Friday morning to all district employees. In it, he acknowledged the difficult choices he initially confronted as well as the pivotal decisions that lie ahead.
"As I look back on our past four years, I am reminded of the many chapters of our bold work to overcome the formidable challenges that threatened the very existence of our schools," he said. "And, while the work that we ventured into is not entirely complete, we can declare that we now stand on solid ground and be proud of the powerful platform we have set for our schools in future years."
Without unveiling specifics, Rosander intimated that major changes could be coming to the district, which still faces chronic enrollment issues. Even as it has added youngsters at Denair Elementary Charter Academy thanks to the dual immersion language program, the number of students at Denair High School and Denair Middle School continues to decline. Continue reading "Aaron Rosander to Leave at End of School Year; Denair Begins Search for New Superintendent" »