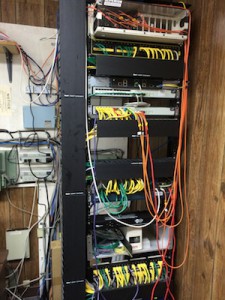 In early September, Denair Unified School District increased its Internet bandwidth by more than sixteen times. Since the mid-2000's, DUSD was connected to Stanislaus County Office of Education, their Internet provider, by four T-1 lines through AT&T. The 6 MB connection served the district well for several years, but as additional modern computers and mobile devices gulped down data at increasing rates, as well as increasingly bandwidth intensive kinds of content network users were accessing, the schools saw periods of time when Internet access slowed to a crawl. Often, the 6 MB connection to the Internet was completely saturated.
Last spring, the District investigated upgrading their connection to SCOE over a fiber connection. Charter Business came in with the best rates and contracts were signed in April, 2013. Mark Ranes, Director of Technology for the District, was hoping to have the new fiber connection in place for the start of school in mid-August, but delays in getting pole permits to route fiber to the District put off installation until early September. An after-hours cutover to the new fiber connection took place the second week in September, and since then students and staff have been enjoying the new 100 MB connection. Ranes has been monitoring the utilization level of the new fiber connection, and average use at peak times is well below the overall capacity. Ranes said, "The problem these days is finding web sites and services that can send data fast enough to take advantage of the new speeds. And that's a good problem to have!"
Wade Williams, Director of Network Services, for SCOE, stated, "Being the Internet service provider for most of our school districts is extremely rewarding. We get to see services being delivered like distance learning, virtual fieldtrips, and video streaming on demand that wasn't possible just a few years ago. But occasionally it's frustrating for us as we see districts struggling with low bandwidth that is at full capacity and services that either aren't delivered or don't work well because of this issue. Denair USD was one of these districts trying to get by on 6 MB of Internet connectivity that was at capacity, all day long during the school year. Now, with 100 MB of pure fiber bliss, Denair has bandwidth to spare and can start embarking on services that will expand the teaching possibilities, be more engaging to students and increase learning potential. We are excited to see how Denair harnesses this new power and delivers a world of possibilities to their students and teachers."
Eighth grade science teacher, Barry Cole, said,"Now that DUSD has the new fiber optic Internet connection, it feels like we are finally out of the stone age.  The new fiber connection allows me to download classroom videos at unbelievable speeds.  What used to take 20 minutes or more to download now takes mere seconds.  Most videos download in 45 seconds or less, saving countless hours, making lesson planning more efficient!  Most impressively, however, is that now it is impossible to notice when the network is at peak use, when peak use in the past has meant impossibly slow speeds, even for basic research.  What a great improvement for our district!"

Ranes expects the 100 MB fiber connection to meet the needs of the District for the next couple years, but as Internet technologies change, the capacity will need to be revisited on a regular basis. As Internet video becomes more pervasive, demands on network resources will continue to increase. The good news is that the new fiber connection is 1000 MB-ready and capacity can be increased easily. Ranes says he will be monitoring average utilization of the fiber connection to make sure it continues to meet the needs of students and staff.