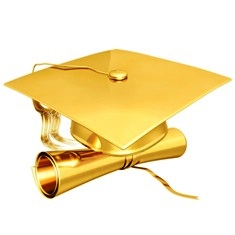 Denair High School celebrated the academic achievement of its top students May 1, 2014. Collectively, they earned almost $70,000 in scholarships.
Belle Helnore received the top individual scholarship, a grant of $22,356 from Pacific Lutheran University in Tacoma, Washington, where she will be a freshman this fall.
Trey Howze was recognized as the Class of 2014 valedictorian for his grade-point average of 4.22, tops among seniors. Madison Taylor, with the second-highest GPA of 4.15, will be the salutatorian at the school's May 30 graduation ceremony.
Katelynn Lawson was chosen as the Principal's Leadership Award winner for her leadership and contributions over the past four years.
More than 250 people attended the one-hour awards ceremony May 1, in the high school gym.
For the first time, Denair students were eligible for an Access Success Scholarship from the Stanislaus County Office of Education. Kailyn Brammer and Talia Cardenas shared the highest amount ($3,000 each), followed by Emily Ainslie and Gloria Olivas ($2,500 each); Bianca Enriquez, Mayra Pimentel and Paige Shipman ($2,000 each); Madison Taylor ($1,750); Crystal Ramos, Michael Ovro, Belle Helnore and Juan Arrieta ($1,500 each); Maroniel Bethishou ($1,000); and Evonne Avalos ($750).
Other scholarships, listed by student:
•  Kailyn Brammer, $500 from the Kiwanis Ron Jesse Scholarship, $500 from the Denair Volunteer Fire Department, $500 from the Denair Sports Boosters, $500 from the Denair Lions Club Tom Dougherty Scholarship and $500 from the Denair Education Foundation's John Robbins Memorial
•  Paige Shipman, $1,500 from the Central Valley Opportunity Center, $500 from the Denair Sports Boosters, $250 from Denair Youth Football and $100 from the CSEA
•  Kane Bryson, $800 from Knights of Columbus and Serpa Scholarship Fund, $500 from Stanislaus County 4-Ha and $500 from the Denair Volunteer Fire Department
•  Belle Helnore, $500 from the Denair Education Foundation's John Robbins Memorial, $500 from the Denair Lions Club Tom Dougherty Scholarship, $500 from the Denair Volunteer Fire Department and $250 from Denair Youth Football
•  Holley McDiffett, $1,000 from the Bright Family Foundation and $500 from the Denair Ag Boosters
•  Gloria Olivas, $500 from the Denair Lions Club Tom Dougherty Scholarship, $500 from the Denair Sports Boosters and $250 from the Denair Unified Teachers Association
•  Madison Taylor, $500 from the Denair Lions Club Tom Dougherty Scholarship, $500 from the Kiwanis of Greater Turlock and $350 from Delta Blood Bank
•  Emilie Ainslie, $500 from the Denair Lions Club Tom Dougherty Scholarship and $500 from the Kiwanis of Greater Turlock
•  Sal De La Cruz, $500 from the Denair Sports Boosters
•  Bianca Enriquez, $500 from First Southern Baptist Church
•  Katelynn Lawson, $500 from the Denair Ag Boosters
•  Mayra Pimentel, $500 from the Denair Unified Teachers Association's Roberta Prescott Memorial
•  Crystal Ramos, $500 from the Denair Unified Teachers Association's Roberta Prescott Memorial
•  Alex Knapp, $250 from the Turlock Sunrise Rotary Club and $100 from the CSEA
•  Quentin Allen, $350 from Delta Blood Bank
•  Sean Anderson, $250 from Denair Youth Football
•  John Campanur, $250 from Turlock Sunrise Rotary Club
•  Jenna Cole, $250 from Paul's Glass Co./Ron Jesse Memorial
•  Erica Evans, $250 from the Denair Unified Teachers Association
Other honors given to seniors included:
•  Army Reserve National Scholar/Athlete: Troy Howze and Kailyn Brammer
•  California Mathematics Council: Alex Knapp
•  California Department of Education Awards for highest GPAs: Kailyn Brammer (4.11), Alex Knapp and Talia Cardenas (3.91), Belle Helnore and Sal De La Cruz (3.81), Bianca Enriquez (3.76), Jenell Knapp and Jenna Cole (3.62), Katelea Petty (3.60), Holley McDiffett (3.54) and Emily Ainslie (3.44)
•  Stanislaus County Multilingual Proficiency Seal: Talia Cardenas, Bianca Enriquez and Juan Arrieta
Departmental awards went to students at any grade level to recognize grades, attendance, contributions in class and behavior. Those winners were:
•  Ag Earth Science: Tylerr Metcalf and Malia Martinez
•  Ag Biology: Jendayi Larios and Juan De La Cruz
•  Farm Management & Landscape Design: Travis Cavanaugh and Tyler Kindle
•  Introduction to Ag Mechanics: Eric Borba and Tristan Haile
•  Advanced Ag Mechanics: Richard Richards and Trenton Howze
•  Small Engines/Power Mechanics: Maroniel Bethishou and Adam Rudd
•  Horticulture/Floral Design: Molly Hall and Kayla Hoskins
•  Web Design: Jasmine Vile and Jendayi Larios
•  Computer Literacy & Careers: Kayla Fant and Jonathan Bettencourt
•  Journalism: Megan Silva and Jasmine Yonan
•  Yearbook: Kaelee Martinez
•  English 9: Hector Jimenez, Christina Abebe and Jendayi Larios
•  English 9 Honors: Jasmine Vasquez and Libby Martinez
•  English 10: Nadia Johnson and Heather McDougall
•  English 10 Honors: Logen Arndt and Shawn McVeigh
•  English 11: Trenton Howze and Sylvia Cervantes
•  English 12: Jenell Knapp and Belle Helnore
•  AP English Language: Anna Dirkse and Andrew Knapp
•  AP English Literature: Trey Howze and Alex Knapp
•  Art 1: Kenneth Carder and Kayla Hoskins
•  Art 2: Brittany Rentfro and Jackie Gonzales
•  Art 3: Kailyn Brammer and Crystal Ramos
•  Art Design: Christina Abebe and Gizem Simsek
•  Criminal Justice: Selena Ortiz and Nadya Campos
•  Forensic Science/CSI: Quentin Allen and Katie Stafford
•  Algebra 1: Jackie Gonzales and Ana Moreno
•  Algebra 2: Jenna Cole and Logen Arndt
•  Geometry: Jendayi Larios and Natalie Morales
•  Trigonometry/Pre-Calculus: Andrew Knapp and Brandon Betencourt
•  AP Statistics: Trey Howze and Madison Taylor
•  Academic Decathlon: Garrett Shults and Andrew Knapp
•  Health: Kayla Fant and Crystal Mancilla
•  Virtual Online Academy: Morgan Pombo, Andrew Knapp and Erika Evans
•  Physical Education Co-Ed: Vinnie Rossow and Wanda Elliott
•  PE Fitness: Horacio Guillien
•  Biology: Libby Martinez and Christina Abebe
•  Biology Honors: Abigail Wilson and Tynan Howze
•  Chemistry: Logen Arndt and Max Nungess
•  Anatomy/Physiology: Anna Dirkse and Andrew Knapp
•  World History: Heidi Johnson and Juan De La Cruz
•  World History Honors: Logen Arndt and Jordan Sandoval
•  Civics/Economics: Emily Ainslie and Trey Howze
•  U.S. History: Richard Richards and Victoria Eddy
•  AP U.S. History: Andrew Knapp and Brandon Bettencourt
•  Spanish 1: Macie Hughes and Zach Ramaley
•  Spanish 2: David Sweeten and Taryn Fletcher
•  Spanish 3: Brian Dudley and Crystal Ramos
•  AP Spanish 4: Yamara Avila and Sandra Rodriguez