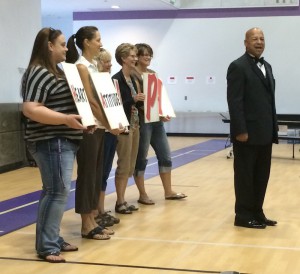 Submitted by Denair Unified School District
Motivational speaker Harvey Alston pumped up the Denair Unified School District staff Monday morning, punctuating his presentation to teachers, secretaries, custodians, food workers and administrators by urging them to "be the absolutely the best at whatever you are."
Alston called the staff members heroes, saying, "A hero is someone who helps somebody; somebody who makes a difference in somebody's life."
"We are in the business of saving lives," he told the 130 district employees. "We nourish children."
Alston is a former teacher and coach from Ohio who has spoken to students and staff at more than 6,000 U.S. campuses in addition to businesses and other organizations. He is the author of the book "Be the Best" and his website is built around that theme. His presentation Monday was part of a staff development program. Denair welcomes nearly 1,400 students back to its six campuses tomorrow at 8 a.m.
Dressed in a tuxedo, his voice booming in the Denair Middle School multipurpose room, Alston used humor and examples from his own teaching career to deliver his message of empowerment, respect, honesty and responsibility. His words echoed those of Superintendent Aaron Rosander, who stressed the importance of a quality education and introduced Alston by saying, "We're on a mission to start an epidemic of positive thinking."
Rosander showed a popular "Shift Happens" video from YouTube comparing educational, population and technological trends from around the world to remind his staff of the rapid pace of change confronting students and those responsible for teaching them.
Alston compared the revolution sweeping education to a roller coaster ride. "You get to the top and someone changed the rules and regulations from last year." He talked about how technology is transforming the classroom — with laptops and tablets given to students instead of books, satellite teaching and online access to community college courses, and expanding charter school opportunities.
Innovative school districts, he said, take advantage of all of that to teach children "how to be learners."
"This is what your future might look like as we begin to compete with people around us," Alston said. "We've got to be the best. When we're the best, people will drive distances to bring their kids here because you're No. 1. That's the competitive edge we're seeking."
He stressed the importance of every school employee being a positive role model, dedicated to success and committed to children. He encouraged them "to find the happiness that's inside you and share it with others."
He had five employees hold cardboard signs to spell out "Happy," then explained a message behind each letter.
" 'H' is for heart. People who love what they do. People are drawn to them. You can smell a person on the telephone and tell by their voice if they love their job."
" 'A' is for attitude. In every job, in every organization, there's always someone with a bad attitude. … We have to learn how to change and alter our attitude."
" 'P' is for pride. Show it each and every day. Have personal responsibility in developing excellence."
" 'P' is for people. … We have to learn to get along with each other. We must teach children to get along no matter what their differences are."
" 'Y' is for you. You can make a difference. … Don't let little things in life distract you. Focus on helping children."
Alston's presentation hit home with his audience.
"You have to be the best at whatever you're doing, whether that's social science, math, science," said Donna Williams, a Spanish teacher for the past seven years at Denair Academic Avenues charter school. "You have to embrace each day and make it the best. Each moment is precious."
Veteran teacher Curtis Wooten called the speech "very uplifting." He has worked in the district for 18 years and will teach independent study this year at Denair Charter Academy. "You have to keep a positive attitude every day," he said.
Alston warned against allowing students, schools or districts be burdened with negative labels.
"When we do our job to the best of our ability, we lift everyone around us. When you have good children in your class, you become better teachers," he said. "People will want to come and live here because our school district will be the best. … You must be the absolutely the best at whatever you are."
Another speaker is scheduled today. Pat Hurley, a three-time Emmy winner and one of the nation's leading comedians for teens, will give presentations at 9:30 for middle school students and 10:35 a.m. for high school students. The public is welcome to attend.