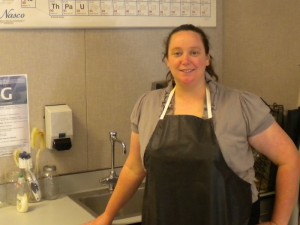 Submitted by Denair Unified School District
Ms. Breanna Vaughan is Denair High School's new science teacher. She is teaching Chemistry, Anatomy and Physiology, Physics, and Honors Biology this year. Ms. Vaughan graduated from CSU Stanislaus in 2007, with a degree in Biological Sciences. She taught high school science for three years outside Fresno.
Ms. Vaughan loves seeing students having fun and appreciating and learning science. This year she will focus on improving labs, bringing computers into the lab for virtual simulations and dissections, and developing benchmark assessments that measure student achievement in her courses.
At CSU Stanislaus, Ms. Vaughan was a three-sport athlete playing collegiate soccer, basketball, and running track and field.