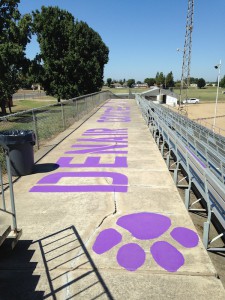 Submitted by Denair Unified School District
On Sunday August 24th 2014, seventeen Denair High School students along with several Athletic Boosters, parents, and community members came out to the Denair football field for a workday that involved a lot of painting.
Students repainted the purple words "Denair Coyotes" and the large coyote paws that lead up the walkway into the stands. They also added a second "Denair Coyotes" and paws on east side of the top walkway in the stands. Some of the Athletic Boosters were out Monday adding black paint outlines to the words and paws.
Athletic Booster Vice President Mr. Russell Steeley and Dominyc Silva, DHS Varsity Quarterback, painted the goal posts. The lift was donated by United Rentals, and Denair High School offers a special thanks to Denair High School alumnus Mr. Jon Rudd for his generosity.
The Athletic boosters painted the stairs with yellow safety paint, and Isaac Starks repainted the door to the announcer's booth.
Athletic Commissioners Edwin Flores and Brendan Curnow took care of signing up students to volunteer and coordinated adult support.
Denair High School's first home football game is Friday August 29th, 2014. The Junior Varsity game starts at 5:30 pm with the Varsity following at 7:30 pm.