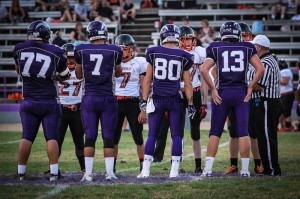 Submitted by Denair Unified School District
Ecstatic. That was how Denair High football coach Ted Howze described his players' reaction after a dominating 54-8 victory over Riverbank on Friday night.
It was the Coyotes' first varsity win since the 2012 season and it helped to take the sting out of a 32-6 home loss to Summerville in the first game.
Howze said Denair's players were "shell shocked" early in the Summerville game by a couple of big plays, but improved as the night went on. He said his coaching staff "built on the positives" as they prepared for Riverbank.
"We went through the film and corrected simple mistakes," said Howze, the Coyotes' first-year coach.
The result? A thorough annihilation of the Bruins. Denair led 13-0 before Riverbank touched the ball, 26-0 after the first quarter and 40-8 at halftime.
The Coyotes' power running game overwhelmed Riverbank, piling up more than 300 yards in the first two quarters and 497 for the game. Senior fullback Austin Hughes led the way with 140 yards and a touchdown, senior running back Alex Valle gained 120 and scored three times, and senior quarterback Dominyc Silva ran for two touchdowns and returned a fumble recovery on defense for a third.
Denair frequently ran behind right tackle Ryan Galahno, a 6-foot-4, 300-pound senior who mauled Riverbank's defense.
"We played power football. He was moving bodies 7 or 8 yards off the line of scrimmage," said Howze, who also singled out sophomore center Gio Flores among his offensive linemen.
Denair drove for a touchdown on its first possession, then surprised Riverbank with an onside kick that the Coyotes' recovered. Denair scored again, the players relaxed and a loyal group of Coyotes fans who drove to Riverbank had plenty to cheer about.
"The kids were pumped up and the stands were rocking for a visiting game," Howze said.
Defensively, the Coyotes also controlled the line of scrimmage thanks to strong play from ends Trenton Howze – playing through a sore left shoulder – and Silva. The highlight was Silva stripping a Bruins running back of a ball and returning the fumble 64 yards for a first-half touchdown.
"We had a lot of blown pass coverages in the first quarter of week 1, which we straightened out and that carried over to week 2," Ted Howze said. "Our pass coverages were perfect and our run defense was stellar."
After the game, Howze said the mood was "ecstatic."
"The kids were so happy they were begging us to open the weight room on Saturday," he said. "We had to tell them that even the coaches had to have a day off once in a while."
Denair (1-1) has a bye this week before hosting Argonaut (0-2) of Jackson in a non-league game Sept. 19.
The Coyotes can use the extra time to heal up. Running back Trevor Colvin, who sprained his knee in the first game, might be able to play. And defensive end/tight end Brandon Steeley is recovering from a broken finger.
Howze said practice this week will be just as if the Coyotes are preparing for a game.
"Our job since day 1 is to get them stronger and faster so when they stepped on field they wouldn't be physically dominated," he said. "Now, we need to get beyond that mental barrier to know they can compete with other teams. … That happened against Riverbank. They just blossomed. … There was no razzle dazzle. We lined up and ran it down their throats."
The junior varsity team remained unbeaten with a 26-6 victory against Riverbank. The Coyotes shut out Summerville 7-0, scoring a touchdown in the fourth quarter for the game's only points.
Follow the Denair football team on Facebook at https://www.facebook.com/groups/Denairhighschoolfootball/