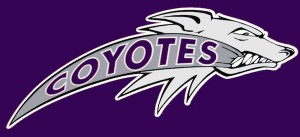 Submitted by Denair Unified School District
Austin Hughes ran for two touchdowns, including the winning score with a minute and a half left in the game, and Denair's defense came up strong in the second half as the gritty Coyotes rallied for an 18-14 non-league victory over Argonaut on Friday night at Jack Lytton Stadium.
Denair (2-1) dominated in many phases of the game. The Coyotes' power running attack generated 68 plays on offense to Argonaut's 30 and helped Denair hold the ball for more than 34 of the 48 minutes. Still, a few ill-timed mistakes and two touchdowns by Argonaut (0-4) in the second quarter left Denair trailing 14-12 at the end of three periods
The winning 78-yard drive began after the Coyotes' defense stopped Argonaut on downs late in the third quarter. Denair methodically marched down the field behind Hughes (15 carries, 116 yards) and Alex Valle (18 carries, 87 yards).
A key play came when Valle connected on a pass to sophomore tight end Justin Steeley, who shook off a big hit by Argonaut to hold on inside the 10-yard line. Hughes scored the winning touchdown on the next play, capping a drive that saw Denair run almost 9½ minutes off the clock.
After the Coyotes missed on a two-point conversion attempt, their defense held Argonaut to a short run and three incomplete passes to end the hard-fought game.
"We moved the ball really well all night long. They did, too, but both teams couldn't capitalize," said Denair Coach Ted Howze.
The game started well for Denair. Argonaut fumbled on its very first play, Denair recovered and Hughes scored his first touchdown on the following play. After an Argonaut punt, the Coyotes were poised to score again, but a fumble stopped that drive.
Argonaut then put together its two best drives of the night, scoring back-to-back touchdowns to take a 14-6 lead midway through the second quarter.
Weston Fair gave the Coyotes some life with a 70-yard punt return, which set up Dominyc Silva's 2-yard TD run a few plays later. Denair missed its two-point conversion attempt, but got the ball right back with a successful onside kick.
The Coyotes were on the Argonaut 4-yard line when time ran out in the first half.
An energized crowd watched both teams struggle offensively in the third quarter before Denair embarked on its long game-winning drive.
"The second half was a defensive battle," Howze said. "Both coaching staffs made good adjustments. We got guys in different gaps and in good position on defense. They still moved the ball, but we held them."
Hughes and Trenton Howze had eight tackles apiece for the Coyotes' defense, while Joe Brasil and Richard Richards each had a quarterback sack. Silva and Fair recovered Argonaut's two fumbles.
In the junior varsity game, Denair suffered its first loss after two victories, falling 12-7 to Argonaut.
This week, Denair opens its Southern League schedule by hosting Delhi (2-1). The Hawks had a bye last week and many of their players and coaches were in the stands to watch Coyotes beat Argonaut.
"It's going to be a slugfest," Howze predicted. "Both teams are big, physical and have speed. They're built just like us.  They're a running team."
Follow the Denair football team on Facebook.