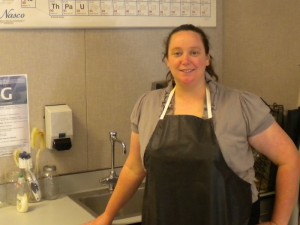 Submitted by Denair Unified School District
A traditional physics teacher introducing Newton's Second Law of Motion to her students might write this on a board in front of the class: "Force = Mass x Acceleration."
Not Breanna Vaughan. She used a simple bathroom scale, her Toyota Tacoma and the muscle of some willing students to bring Newton's theory to life.
So much for tradition.
"My approach to science is that I try to make it fun for students," said Vaughan, who joined the staff at Denair High School this year. "Kids learn more when they're having fun. I always try to have real-life applications for them. I try to emphasize what jobs might use the kind of science I'm teaching."
For her lesson on Newton's Second Law of Motion, Vaughan literally parked her white pickup in neutral on the pavement outside her classroom. Two students placed bathroom scales borrowed from the nearby gym and someone's home against the truck's front bumper and then leaned against them to make the pickup move. Other students kept notes about how far the truck rolled in a certain amount of time.
The exercise illustrated the concepts of "force" (measured in kilograms via the scales) and "acceleration" (measured in meters per second). From that, students were able to determine "mass" (how much the truck weighs).
In her anatomy/physiology class, Vaughan introduced the subject of tissue engineering – essentially, building "replacement" organs or body parts for people. She asked her junior and senior students to write an essay, requiring them to answer thought-provoking questions about a sometimes controversial topic.
"If your brother went off to war and lost his leg, would you want it? If your grandma needed heart tissue, would you want something new to make it beat?" Vaughan explained. "This is what I do. Tissues could be boring, but I try to make them think. We had a good discussion."
Some of the students took the conversation further, decorating common Kleenex (tissue) boxes with definitions of the different kinds of tissues. Vaughan has 11 of them sitting on her desk.
In her chemistry class, flame tests will be part of an upcoming lesson on electron orbitals, chemical bonding and the colored light spectrum. Copper burns blue-green, for instance. Objects with different levels of energy burn in different colors, which helps explain the rainbow of hues represented in fireworks shows.
"We always talk about fireworks," Vaughan explained. "Not all colors go off at once, so we talk about buffer qualities and what that means."
Other unique lessons have involved using an "American Idol" format to create original song lyrics to describe photosynthesis, having students draw chalk outlines on the black top outside to explain vectors and dunking Gummy bears in syrup, water and acid to measure the different reactions.
"I could easily talk about any of these things, but I've found if you do things out of the norm, it's more likely to stick," said Vaughan, who teaches three periods of chemistry and one each of anatomy/physiology, honors biology and physics. She also specifically integrates other academic skills – like math and English – into her science curriculum.
Her academic versatility and passion for science stood out during the interview process this summer, said Christine Skinner, the high school's vice principal.
"We saw her enthusiasm and energy, a high level of competence in the subject matter and a fearlessness in working with students," said Skinner, who complimented Vaughan's innovative style. "She brings what I would call an object lesson to the beginning or end of assignments to illustrate a concept."
Vaughan spent the past five years teaching biology, environmental chemistry and health in high schools in Fresno, Visalia and Roseville. But Denair is not new to her. She graduated from California State University, Stanislaus, in 2007.
"I came here because I still have a lot of friends in this area and I like it," she said.
One of the first things she made all her students do this semester was find examples of science in current events. She asked each of them to write a summary of what they found, including what kinds of jobs might be related to the particular science involved. She described their response as "enthusiastic."
One student wrote about a sweat-powered battery. Another about a three-dimensional printout of the human spine. Others about the Napa earthquake or the volcanic eruption in Iceland.
"I want them to have an appreciation for science and the kinds of careers that are available," Vaughan said. "It reinforces why science is important."