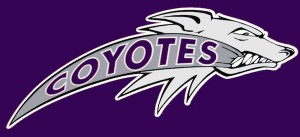 Submitted by Denair Unified School District
It was a tale of two halves Friday night for the Denair High football team against Gustine.
The Coyotes emerged from a back-and-forth first half with a one-point lead, only to have a number of crucial penalty calls go against them in the final two quarters in an entertaining but ultimately disappointing 35-22 Southern League loss.
Denair (2-4, 0-3) led 22-21 at halftime and was poised to record its first league victory, but couldn't sustain any offensive rhythm in the final two quarters.
"We were still running the same game plan, but every time we moved the ball, we got a penalty flag," said head coach Ted Howze. "The officials took our kids out of the game."
Gustine (5-1, 2-1) scored first in the opening quarter, but Denair quickly responded. On the first play after the kickoff, senior running back Austin Hughes broke loose up the middle and sprinted 70 yards for a touchdown to tie the score 7-7.
Gustine marched down the field again to score another touchdown early in the second quarter. Again, the Coyotes answered, this time on a 37-yard TD pass from Dominyc Silva to tight end Brandon Steeley.
Sensing Gustine was aggressively trying to block the point-after kick, Denair ran a perfect fake. Silva again found Steeley on a pass for the two-point conversion to give Denair a 15-14 lead.
The teams exchanged punts before Gustine scored once more to move ahead 21-15. The Coyotes got the ball back with about two minutes left in the half and efficiently marched down the field. They capped the drive on Alex Valle's 3-yard TD run with 6 seconds to play to take a 22-21 lead into halftime.
Howze said penalties put Denair's offense in "horrible down and distances" through much of the second half. And a key roughing the passer flag on Denair's defense on fourth down kept alive the drive that led to Gustine's go-ahead touchdown midway through the third quarter.
"We praised our kids for playing hard and giving us great effort, but we got flagged for a few phantom penalties on offense and defense," Howze said. "We missed a few tackles on defense, but outside of that, we played well."
Hughes finished the game with 159 yards on the ground to lead the offense. In addition to his touchdown, Steeley made seven tackles on defense.
This week, Denair will travel to Newman to take on Orestimba (4-2, 1-2), which is coming off a 41-21 loss to Mariposa.
Denair's junior varsity team also had a rough night Friday, losing 21-0 to Gustine. The Coyotes fell to 4-2 overall and 2-1 in the Southern League.
Follow the Denair football team on Facebook at https://www.facebook.com/groups/Denairhighschoolfootball/