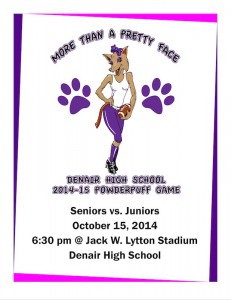 Submitted by Don Helnore
Every mid-October signals the time of year that the ladies take over the grid iron and invade Jack W. Lytton Stadium at Denair High School for the annual Powderpuff Game. This year's game will be played Wednesday, October 15, 2014, at 6:30 pm. The 2014 Powderpuff Game between the junior and senior girls will be an exciting display of athleticism and competitiveness. The game is always a fun time for all, including the fans in the stands cheering, the players on the field giving their all and the all-boy cheerleading squads, showing their support and showing their moves during half time.
The game is a fundraising event for Denair Sports Booster and Denair High School Wrestling. Gates open at 5:30 pm and start time is 6:30 pm. The cost to attend is $6 for adults, $5 for students, and $3 for students with an ASB sticker. There will be food available to purchase at the game.
Both teams have done an excellent job preparing for the game and both squads look like they are ready to play. There are some great coaches volunteering their time to help them. Denair Head Wrestling Coach, and former Denair Assistant Football Coach, Don Helnore is coaching the juniors along with Denair Assistant Wrestling Coach and former Denair High School Football Player Matt Saldana, Denair Assistant Football Coach Andy Rutherford and former Denair High School Football Player Donny Helnore.   The seniors have former Denair Assistant Football Coach Russell Steeley returning, to coach along with Denair Assistant Football Coach Rick Snyder, and a group of current football players.   It looks to be an exciting game that will determine who will have bragging rights for the rest of the school year.
Last year juniors this year's seniors will be looking to get a chance at a victory that escaped them last year. Last year returning player, senior Katie Stafford understands what it felt like to be on the other side watching last year's seniors enjoy their victory. "Horrible, we thought we were going to win. I think we are better this year. The game is not new to us like last year and we know what to expect."
Also, returning senior QB Tori Lewellen feels that things will be different than last year. "Our defense will be better. Our offense is looking great, and I think our experience gives us a different outlook on the game than last year."
First time player and junior QB Cheyenne Rutherford is already having fun and is excited to be playing this year. "I have been looking forward to this since my freshman year. What has been fun about the experience is that it has brought our class closer together. I think we can do really well in this game because we feel like we are more an athletic group then the seniors."
Finally, junior Megan Silva lets us in on how she how practices have been and how she feels about the game on Wednesday. "It has been a lot of fun and it has been really exciting. I think the juniors have a good chance of winning, but either way I will be happy from the experience."