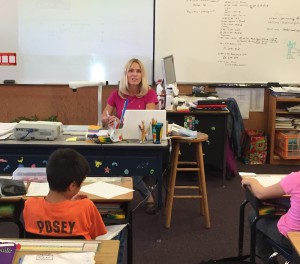 Submitted by Denair Unified School District
Name: Tami Sondeno
Family: My husband Denis, with whom I have been married to for 22 years; my son Cameron, 18, who attends MJC and is on the water polo team; my daughter Natasha, 16, who attends Pitman High School and is on the dive team; and my daughter Shannon, 12, who attends Denair Middle School and is on the leadership team.
School: Denair Academic Avenues
Subjects taught: Fourth and fifth grade math and science
Experience and education: I attended Modesto Junior College and received an AA degree in child development. I furthered my education at CSU Stanislaus and earned BAs in child development and liberal studies. I have a multiple subjects credential as well as a general science supplemental credential. I taught science, history and core at Yolo Junior High for eight years and moved to Livingston as a part-time instructor for seven years, in which I taught fourth grade. I have been in Denair for 10 years and have instructed fifth grade, 4/5 GATE, fourth-grade GATE, first- through fifth-grade science, and now fourth- and fifth-grade math and science.
Why most inspires you about teaching?  The excitement that students generate when they have learned new content and apply it to their daily lives.
What are your biggest challenges as a teacher? I want to purchase more lab materials for hands-on based instruction and my budget is not in the six figures. Nasco can be my greatest friend and foe!
What is your favorite teaching tool or activity? Teaching hands-on science and math labs is my favorite way to instruct because I find that the students are extremely engaged in the learning process. I just love to hear, "Wow! That was so cool!"
How has Common Core affected your classroom strategy? The biggest change is the amount of time that students discuss and interact with the curriculum. They share strategies for learning new concepts and, in doing this, students take ownership in their learning.
What do you want your students to remember? I want students to remember to always have a love of learning. I also really encourage students to grow by trying new things.
How can parents support what you do? Supporting children at home is the best way to support teachers because we are here for the children.
What will it take to improve academic success in DUSD? The continued positive support from the district via materials, in-services and attitude will make a huge improvement to the academic success for students at the Denair Unified School District.
What's next in your classroom?  I want to create a new group of entrepreneurs this year. The majority of the jobs in the next 10 years will involve individuals creating their own businesses. Students will create a business project in which the will create a business, logo for the business, and product or service. They will balance cost, income and have a profit margin to ensure that their business is in the black.
What would surprise people about your job? I like to read student writing. I feel that I have a window into a student's soul when I read their writing. It is fun to "hear their voice."
What do you do for fun? I love to read historical fiction, ski and eat ice cream!