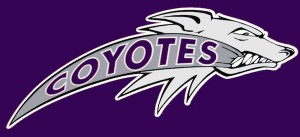 Submitted by Denair Unified School District
It wasn't a hard decision, Denair High football coach Ted Howze explained.
His gritty team had just scored a touchdown to pull within 40-39 against Orestimba. There was a minute, 56 seconds left in the game Friday night. The Coyotes' defense was tired, they were on the road and, most of all, Howze wanted his players to celebrate a victory.
So he went for a two-point conversion. Quarterback Dominyc Silva deftly faked a handoff and then followed a powerful block from Joe Brazil to reach the end zone. Denair had its first lead of the night, 41-40, with less than two minutes to play.
"We were going for a win right there," Howze admitted. "We knew defensively we were having trouble stopping them. We didn't want to go into overtime."
Unfortunately, Denair's clutch play on offense was undermined by its inability to make one final stop on defense in what turned out to be a disappointing 48-41 Southern League loss to Orestimba.
On its last drive, Orestimba converted a third-and-16 deep in its own territory and, on a fourth-and-6 from the Denair 15 yard line, threw a touchdown pass for what proved to be the winning points.
"It was a great football game, one of the best I've ever been part of at any level," Howze said.
Denair (2-5 overall, 0-4 SL) rallied from a 33-20 deficit to take the lead, using three touchdowns each from Austin Hughes and Alex Valle. Valle's third score – an 18-yard run – was the one that set up Silva's two-point conversion that gave the Coyotes their only lead.
"We challenged our kids at halftime," Howze said. "Offensively we played well, but we were struggling on defense. Our biggest issues are tackling and, because we've had so many injuries, that we have kids playing different positions on defense."
Denair suited up 21 players, including three sophomores. Many of them played both ways. Contrast that with Orestimba (5-2, 2-2), which had more than 50 players on its roster, with few doubling up on offense and defense.
That numerical advantage didn't help the Warriors' defense. Denair's tricky multi-directional offense racked up more than 500 yards and consistently broke Hughes (19 carries, 181 yards) and Valle (20 carries, 152 yards) free for long runs.
"Both defenses couldn't stop anyone," Howze said.
On the final drive, with Orestimba backed up on its own 10 yard line and facing a third-and-16, junior quarterback Joe Sheldon rolled to his right to escape the Coyotes' pass rush. As he headed out of bounds after a 2-yard gain, a Denair defender gave him an extra push. An official threw a flag, ruling it was a personal foul. The penalty added 15 yards to the run, giving the Warriors a first down and extra momentum.
A few plays later, Sheldon threw what turned out to be the winning touchdown on a fourth-down play.
"They had a good QB who got out of the pocket and made things happen. … He threaded the needle on the winning play," Howze said.
After Orestimba scored, Denair still had 50 seconds to tie or go ahead. The Coyotes reached Orestimba's 28 yard line before time ran out.
"Part of the learning process for our group is learning how to win. We're close. … We're building a new reputation around the league and it was fun to watch it unfold Friday night," said Howze, whose team returns to Jack Lytton Stadium this week for a homecoming game against Ripon Christian (5-2, 2-2).
In another sign of the positive future for the Denair football program, the junior varsity team tied Orestimba 6-6 – the first time the unbeaten Warriors have not won this season.
Denair improved to 4-2-1 overall and 2-1-1 in the Southern League. Orestimba is 6-0-1 and 3-0-1.
Follow the Denair football team on Facebook at https://www.facebook.com/groups/Denairhighschoolfootball/