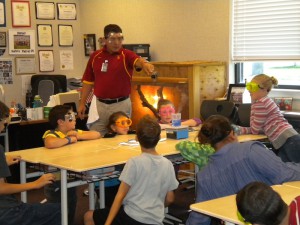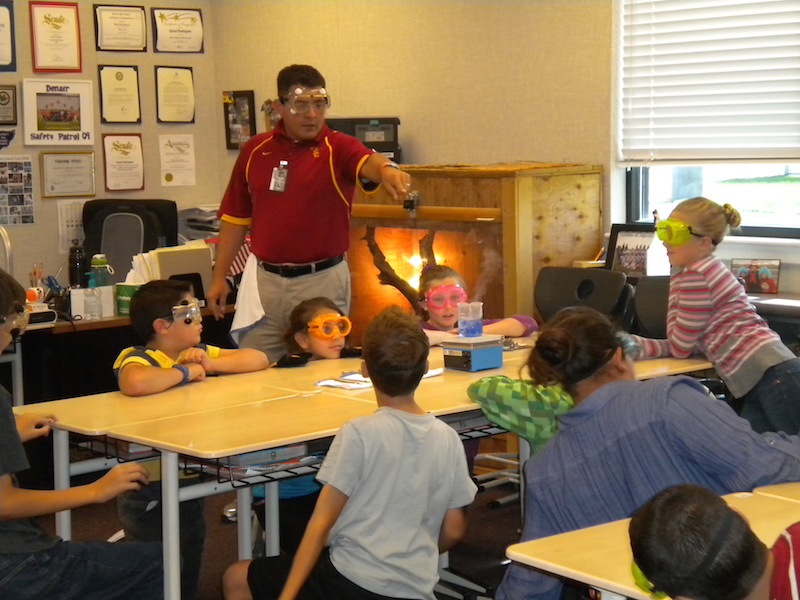 Submitted by Denair Unified School District
David Rodriguez has a short list of people who inspired him.
His father, a farmworker, taught him the value of hard work. An entrepreneurial cousin helped him develop an appreciation for money. A high school coach convinced him to dream big.
But it is the memory of the elementary teacher who didn't believe a shy, Spanish-speaking boy could learn in her classroom that led him to a career in education and a place on the staff at Denair Middle School.
Rodriguez grew up in Ivanhoe, a poor, gang-plagued community just northeast of Visalia in Tulare County. His father — a former minor-league baseball player in Mexico – worked in the fields. The family only spoke Spanish. Rodriguez had to learn English bit by bit at school, without any special attention.
His third-grade teacher relegated him to the back of her classroom with a pair of headphones. She didn't think he could understand what she said. One day, while he was standing next to her holding a tray of classroom materials, she called him a "turtle" in front of his fellow students. Ashamed and embarrassed, Rodriguez dropped the tray on her foot. It broke her toe.
The incident led to a conference involving the teacher, school officials and Rodriguez's parents. Questions were asked … and Rodriguez responded in Spanish and English, shocking the teacher. "She had no idea I spoke English."
The lesson that stuck with him, Rodriguez says during a quiet break in his sixth-grade Denair classroom, is about supporting and believing in students, especially those from non-traditional backgrounds. Many of his Spanish-speaking peers back then faced the same culture of low expectations. It was a powerful barrier and Rodriguez admits he was a "middle-of-the-road" student.
It was his cross country coach, Juan Garcia, at Golden West High School who finally convinced Rodriguez, by then a budding running star, not to let others define him. Garcia grew up in a similar background and became a role model for Rodriguez, encouraging him to fully develop his intellectual and athletic abilities.
"He told me it's about what you do with it, not about what others dictate. It's about putting in the work," Rodriguez says. "It motivated me to be a teacher for students who don't have a voice or were afraid to speak up. That's when I started thinking about college and making running my ticket."
Rodriguez went to College of the Sequoias in Visalia and then earned a track scholarship to Notre Dame University in Belmont, in San Mateo County. When the college disbanded its athletic program, he chose California State University, Stanislaus, over Chico State and Fresno Pacific.
That was his ticket to Stanislaus County, where he stayed after college graduation.
Rodriguez taught and coached in Keyes and Ceres before joining the Denair staff in 2003 to teach third grade. He was the assistant principal at Denair Elementary School and then principal at Denair Academic Avenues for a year before voluntarily moving back to the classroom so he could spend more time with his wife and two young children.
For the past three years, he has been one of three teachers who share responsibility for about 90 sixth-graders. Each instructor teaches math, reading and language arts to the same group of students during the first three periods, followed by three periods of a specialty with the students rotating into their classrooms. Rodriguez's specialty is science.
"I really like sixth-graders," he says. "They get my jokes and puns. It's a blessing to teach them. The curriculum is great. I can really connect to my students."
Rodriguez is known for his hands-on lessons, energy and creativity; the shirts he wears each Wednesday to represent his favorite colleges; the motivational posters that adorn the walls; and the 6½-foot boa constrictor safely tucked into a locked, wooden cage near his desk. More on the snake in a moment.
Like most teachers, Rodriguez relishes what he calls the "ooh-aah moments" when students grasp a complicated concept or solve a problem.
"As a teacher, that's what you wanted from the get-go," he says, admitting he has a "soft heart for those who took longer to get there."
As an example, Rodriguez proudly points to something on his desk. It is a candy dispenser with interlocking parts made of Legos. It was built by a resource student with learning disabilities who "demonstrated creativity and critical thinking."
After Rodriguez showed the invention to his classes, that same boy "is viewed as a genius by students who wouldn't have thought he was smart."
It's a perfect example of Rodriguez's teaching philosophy.
"At the beginning of the school year, I share the story with my students about why I got into teaching," he says. "I tell them that we're all different, that we all learn and comprehend at different speeds."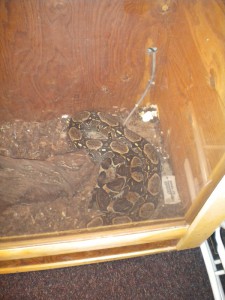 And what about that snake, a female Colombian red-tail boa constrictor? Her name is Kachoppa (an Indian name). Rodriguez got her about four years ago from former Denair teacher Kelly Day. She weighs about 10 pounds and is 26 years old (boas can live to about 35).
Kachoppa is kept in a locked wooden case that is 4 feet wide, 3½ feet high and 2 feet wide next to Rodriguez's desk in the front corner of his classroom. The case has a manzanita branch for her to climb on, but she's often curled on the rocky bottom. There is a glass side so Kachoppa can be observed.
Rodriguez uses the boa to illustrate lessons about the differences between mammals and reptiles and the evolution of lizards to snakes. But it's feeding time that creates the biggest buzz around the middle school campus.
From March until mid-October, Kachoppa,  will eat a live rat every three or four weeks. During the winter – when she isn't as active – she won't feed at all.
Students must get permission slips from their parents to watch a feeding or hold Kachoppa.
"At lunch, it gets packed in here," says Rodriguez, who uses a camera to project the snake's movements on a screen in front of class.
"It doesn't take long. She goes into strike mode and curls into a 'S.' She gets the rat and squeezes it until the life is gone, then she swallows it whole."
It is a memorable moment for Rodriguez's students, one that he hopes ignites a passion for education and inspires their curiosity. Just as others did for him so many years ago.