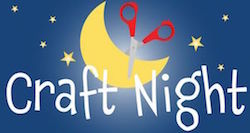 Submitted by Denair Parent Service Club
Denair Elementary School's annual Craft Night fundraiser will be hosted by Denair Parent Service Club (DPSC) and is set for Thursday, December 11, 2014 from 6:00-8:00 pm in the Elementary School gym. We hope you will join us at this fun filled event! There will be holiday crafts to make and a silent auction to bid on gift baskets. DPSC is accepting donations of items for the silent auction gift baskets. Santa will be at the festivities for photos. Water, soda, pizza and cookies will also be available.
Admission is free! Tickets for the activities and food can be purchased at the door for $1.00 each. Food items and a picture with Santa require 1 ticket each and crafts require 1-2 tickets each.
Money raised from this fundraiser will help pay for class fieldtrips, class supplies and technology.
If you are interested in helping out with craft night such as preparing baskets for the silent auction, selling food or helping with the craft tables, please complete this form and return it to your child's teacher. Thank you for your support!!
Additionally, the English Learner Advisory Committee (ELAC) is holding their first annual Tamale Sale on the same evening, from 6:00-8:30 pm.  Tamale sales are pre-sale and drive-thru only. Use the ELAC Tamale Order Form to pre-order your delicious tamales!