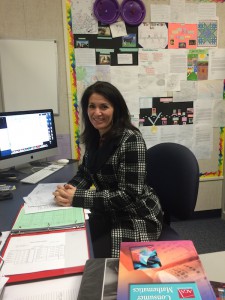 Submitted by Denair Unified School District
Name: Tina Nunes
Family: Husband, Alfred; children, Morgan, 17, and twins Allison, 13, and Alfred, 13
School: Denair Charter Academy
Subject taught: Independent Study
Experience and education: My background is in agriculture. I earned an Associates of Science Degree from Modesto Junior College, a Bachelors of Science in agriculture education from Cal Poly, San Luis Obispo, and my single subject agriculture teaching credentials from Cal Poly, SLO.
What most inspires you about teaching? As a teacher, we do not always know the impact we have on students; however, when you see the difference you are making in their lives or years later when a student tells you how much you helped them … that makes all the hard work worth it and inspires me to keep working hard to make a difference in their lives.
What are your biggest challenges as a teacher? At times, it feels as if you want the success or achievement more than the student, but I have learned to never give up no matter how challenging a student may be. The rewards are so much greater than the challenge.
What is your favorite teaching tool or activity?   I feel the greatest educational tool is any hands-on activity where students can physically see and touch the subject matter they are working on. When a student can take a formula that they memorized and physically see how it is used is the greatest teaching tool.
How has Common Core affected your classroom strategy? I have always believed in vocational education being from an agriculture background. To me, Common Core has reinforced the necessity of applying what we are teaching to real-life application and students being able to problem solve. I believe that in the long run, Common Core will create adults who are stronger critical thinkers and successful problem solvers.
What do you want your students to remember? I want my students to remember that I believed in them and that with hard work and dedication, they can truly accomplish their goals in education and in life!
How can parents support what you do? Students are most successful when parents are involved in their child's education. Things that parents can do are make sure their child has an adequate study area, make sure they are putting the time into their school work, check on their grades and assignments, and to communicate regularly with their child's teacher.
What will it take to improve academic success in DUSD? The students in the DUSD are academically successful. All students have the opportunity to achieve success through the programs and classes that are offered. With the continued positive support from administration, teachers, parents and community, the students will continue to have the opportunities to achieve great success in the DUSD and in their future endeavors. I truly believe what you put in is what you get out of everything we do in life. Work hard, be honest and treat others with kindness and respect.
What's next in your classroom? The spring semester for my students means job shadows, college applications and financial aid workshops on top of the regular curriculum. It is a busy time of year, but exciting to see the growth and achievements from the students.
What would surprise people about your job? I meet with 23 students each week individually who have six to seven different subjects that are lesson planned to fit each student's individual learning style and ability. It is a challenge; however, it is so rewarding to see students who are able to excel, take college classes, work to help out with the family needs or to finally feel successful where they had not felt academic success in the past.
What do you do for fun? What I enjoy the most right now is watching my kids play sports! All three play basketball year round. Not only do I enjoy watching them play the actual game, but seeing them work hard and become better players, build confidence and knowing they feel successful is truly what I enjoy the most.