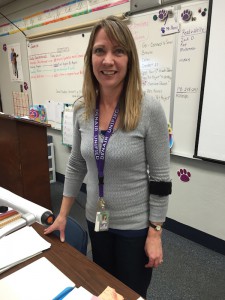 Submitted by Denair Unified School District
Name: Brenda Ranes
Family: My husband is Mark Ranes (where would we be without Mark when we have tech problems?) We have a 24-year-old daughter, Meagan, who lives in Oakland and recently graduated from Academy of Arts University, San Francisco, with a Bachelor of Fine Arts degree, and a 16-year-old son, Dawson, who is a junior in high school.
School: Denair Academic Avenues
Subjects taught: English-language arts and social studies
Experience and education: I graduated from Denair High School and then earned my BA degree and multiple subjects teaching credential from California State University, Stanislaus. I began my career teaching fifth grade at Bonita Elementary School in Crows Landing for 10 years. I then returned to my hometown of Denair to teach seventh-grade English-language arts and social studies for 15 years. Realizing that I needed a new challenge, I made the decision three years ago to return to elementary school and made the move across the street (again!) to teach fifth grade at Denair Academic Avenues.
What most inspires you about teaching? The students inspire me the most! I love teaching children and seeing their faces when they get excited about something that they are learning.
What are your biggest challenges as a teacher? It's very challenging juggling everything that I have to deal with throughout the day and have everything work out. Every day is a challenge as I deal with several different students and grade levels, but it is the most rewarding feeling as well. I didn't go into teaching because I wanted an easy job; I'm constantly challenged and there is never a dull moment.
What is your favorite teaching tool or activity?   I love using technology in my daily teaching like the Elmo (what an improvement from overhead projectors!) and being able to show a Keynote or a video clip from my computer at a moment's notice. I guess I better love technology since I'm married to the "Tech Guy!"
How has Common Core affected your classroom strategy? I am focusing more on using nonfiction literature and encouraging students to try to think more deeply and explain their thinking completely.
What do you want your students to remember? Of course, I want my students to remember the skills I've taught them, but I especially want them to remember to think for themselves, work their hardest and that they can achieve anything they put their HEART into!
How can parents support what you do? I have had the most supportive parents at school by communicating with me, supporting their children in completing homework and keeping abreast of what's happening at school, donating classroom supplies, helping me with my big historical days, like Colonial Day and previously my Renaissance Faires.
What will it take to improve academic success in DUSD? We all need to continue to be positive in our attitudes and push our students to do their best and put education as a priority in their lives.
What's next in your classroom? My students will begin working on making an oral presentation to the class. They will read a biography (novel) of a famous person and will write a report and then make a speech in the first person and dress up in costume. I always look forward to this assignment because it is so cool to have so many "famous" people in my classroom.
What would surprise people about your job? People who are not teachers nor have family members who are educators would be surprised at the number of hours we put into our jobs. We ALWAYS have homework! Also, the sleepless nights! However, I wouldn't trade my job because although it is challenging and exhausting, it is the most rewarding thing I've ever done in my life.
What do you do for fun? I love to get together with friends for dinner. I also love to travel with my family, especially if it's to the coast. I am an avid reader and look forward to attending my monthly meeting with my Book Club. At home, I love to play and snuggle with my two Boston Terriers, watch good movies and swim/float in my pool during the summer.