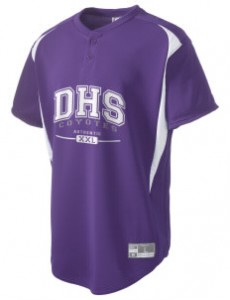 Submitted by Denair Unified School District
One of Denair High School's best baseball players in the past decade will return this spring to take over as varsity coach.
Shawn Stuart was a standout pitcher, infielder and outfielder for the Coyotes who graduated in 2007. He went on to star as a pitcher at Merced College and Long Beach State University before being drafted by the Colorado Rockies in the 31st round in 2012. He spent two years in that organization's minor-league system before deciding to leave pro baseball to pursue a teaching career.
"Teaching was always part of the plan. I knew I wanted to become a teacher. Obviously, I hoped it would be after a long pro career," said Stuart, whose time in the minors was cut short by an arm injury.
He has one semester left in an online program offered by Fresno State to earn his teaching credential. He aspires to teach at multiple grade levels during his career, with a long-term goal of ending up on a college staff.
In Denair, he replaces Darrin Allen, the school's athletic director and fill-in baseball coach last season when the Coyotes were 3-13.
Stuart plans to lean on his own network of former coaches and teammates for coaching advice as well as his own pro baseball experience. He helped during the pro offseason at Merced College and has coached youth baseball and basketball teams, but never a high school club.
"Practice begins in February. … We're going to do the little things right. We might not have the most talent or big-name players from cities, but we're going to do all the fundamentals," he promised.
A right shoulder injury suffered in Stuart's first year at Long Beach never quite healed, reducing his college fastball from the low 90s to the mid-80s by his final season in the Rockies' system. Surrounded in the minors by younger players drafted much higher (and paid much more), he accepted his status as middle reliever and mentor to the kids.
"My role in the pros was to guide the younger guys," he said, saying his release after the 2013 season was not emotional or unexpected. "There were no tears or argument. At that point, I wasn't throwing hard at all, maybe 85-86. … My shoulder never really healed 100%. Surgery wasn't worth the risk and all the time and all the rehab."
Though he lived in Turlock, Stuart always was a big fan of Denair High. He "grew up" in the Denair gym and remembers the shot Travis Manley made in 2002 to send the Coyotes to the Sac-Joaquin Section finals at Arco Arena in Sacramento. After transferring to Denair High from Pitman as a sophomore, Stuart played three years of varsity basketball in addition to baseball.
Starting his coaching career with the Coyotes was more than a sentimental choice.
"It was my way of my way of giving back," he said. "They gave me a chance to play two sports."
Stuart can't understand why some athletes in the Denair district choose to attend other schools.
"I don't know why you'd want your kid out of a small-school situation," he said. "I think some parents may think that if my kid is an athlete, they have to go to a big school. I guarantee that's not true. Those kids are on travel teams that have nothing to do with the school."
Stuart always dreamed of playing sports for a Division I college. He had small-college basketball offers out of high school, but went to Merced Community College instead to play baseball. He grew 3 inches, gained 30 pounds and worked hard. He was named a JC All-American in 2010, drawing interest from the likes of USC and Oklahoma State in addition to Long Beach State. The Texas Rangers also drafted him in the 44th round that year, but Stuart was set on college.
"Long Beach was first Division I team to call," he said. "I grew up playing video games and Long Beach was always my team. … That was the Holy Grail."
Curtis Wooten, the former basketball coach at Denair, called Stuart a "tremendous young man."
"Denair's lucky to have him," he said.
Allen, the athletic director who hired Stuart, expects him to have a positive impact not just on the baseball program, but among all students who become aware of his story.
"He is proof a kid from a small school can make it to the next levels.  He took the JC route to Long Beach to the pros. He is a great example for our students," Allen said.
For his part, Stuart is eager to help restore the Coyotes' entire athletic program to the level of sustained success it enjoyed not too long ago.
"I may not have been in Denair my whole life," he said, "but I know the entire community is never stronger than when those teams are winning."