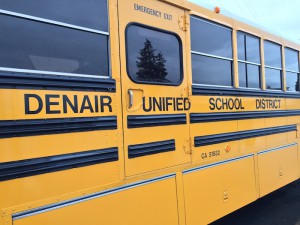 Submitted by Denair Unified School District
A contract with Storer Transportation Services of Modesto to take over transportation services was approved Thursday night by the Denair Unified School District Board of Trustees.
Storer has furnished drivers to operate Denair's buses on an emergency basis since the first of the year. The new contract will pay the company $75,400 for the remainder of this school year. The conditions of the deal require Storer to use and maintain Denair's four buses and offer an equivalent position to the district's former transportation supervisor.
Denair needs two drivers each in the morning and afternoon to handle its routes. Repeated recruitment efforts last fall generated no qualified applicants. Instead, other district employees certified to drive a bus – a custodian, a utility worker and a transportation supervisor – had to take time away from their other duties.
About 120 of Denair's 1,300 elementary through high school students ride the bus daily. District officials said the outsourcing arrangement will be re-evaluated at the end of the school year.