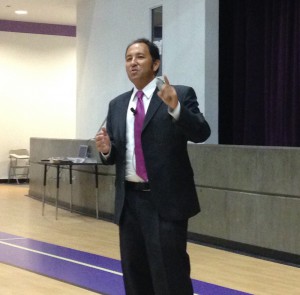 Submitted by Denair Unified School District
Alex Kajitani's self-described mission is to make math "cool" for his junior high students. To do so, he had to step well outside his own comfort zone. Combatting the glazed looks he saw on too many faces in his classroom meant trying to connect on an entirely different level.
He chose rap music, recognizing that his sixth- and seventh-graders consistently knew the words to new songs within days of their release, yet couldn't remember concepts he'd been teaching for weeks.
Kajitani wrote a song called "The Itty Bitty Dot" to explain decimal points, put it to some music he found on the Internet and enlisted the help of some tech-savvy students at Mission Middle School in Escondido, north of San Diego, to produce the video.
He played the song – featuring Kajitani rapping the refrain, "Line up the dot and give it all you got" – one morning in his class. The students thought it was hilarious. He thought it was a complete flop.
But by lunchtime, something amazing had happened. As he walked through the cafeteria, many of his students – and many more who hadn't been in his class – were rapping the lyrics. He had made a connection. The "Rappin' Mathematician" had been born.
Kajitani – who was named California Teacher of the Year in 2009 — shared that experience and more Thursday morning with the teaching staff of the Denair Unified School District. It was part of a training day for the district's 80 teachers from all grade levels.
"The true key to education is to stop taking our curriculum and forcing it into our students' lives and, instead, take our students' lives and fit it into the curriculum," said Kajitani during his hour-long presentation.
Rap music simply is a way to convey ideas in a way students can relate to.
"Could we take standards-based mathematics curriculum and, instead of taking two days to teach a math concept, how about taking two minutes by showing it to our kids in the form of a rap song?" he said.
The results, he said, were almost immediate. Students were more engaged. Test scores soared. Math became fun.
Kajitani followed "The Itty Bitty Dot" with other student-produced videos.
"So Many Lines" won an Innovative Video in Education Award for best student film. It talks about parallel lines and other figures in everyday life. Equally important, Kajitani said, were other 21st-century concepts embedded in the two-minute video – how to operate a camera, edit video, tell a story and collaborate on a project.
Another video, "The Routine Rhyme," celebrates the efficiency created by a predictable classroom environment. "The more students' lives are unstructured at home, the more they need, crave and will thrive on structure in school," Kajitani said.
He created a game he calls "The Math Professor" in which he challenges his students to find something that doesn't relate to math. He said he had ready answers for virtually every subject until one day a student brought up love. Kajitani admitted to being momentarily stumped until another student raised his hand.
" 'Oh, I know. I know what love has to do with math.' I said, 'What?' He said, 'When you're in love, that can be very expensive.' And then another said, 'Normally in math, one plus one equals two. But when you're in love, one plus one can equal three.'
"I cut it off right there," said Kajitani as Denair's teachers laughed loudly.
"When the students start saying things like, 'OK, Mr. Kajitani, fine. Everything has something to do with math, all right?' That's when we know we've instilled in our students the real-world relevance of mathematics. And now they see how their lives are beginning to fit within the curriculum."
Kajitani encouraged the teachers Thursday to view every failure as an opportunity for growth, as he first did by taking a chance with "The Itty Bitty Dot." He told them to be visible on campus to their students, to embrace talking about racial concepts in today's multicultural society and, most of all, to be real.
"When it comes to improving our schools, no one knows more than we do," he said. "Take the things that you love and incorporate them into your teaching."
Kajitani's inspirational message and practical ideas for the classroom resonated with his audience.
"It was great," said fourth-grade teacher Patti Morrissey. "I really liked the part about visibility in everything."
"I thought it was a phenomenal presentation," echoed sixth-grade teacher Linda Richardson. "Making math fun and interesting for students and putting things into their curriculum is exactly what we're trying to do."
More information on Kajitani's ideas can be found on his website www.alexkajitani.com.