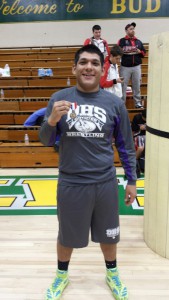 Submitted by Denair Unified School District
Flashing what his coach described as a "brute strength kind of move," Luis Mendoza got the ultimate payback against a tough wrestling opponent – a pin.
The result was a third-place finish Saturday for the Denair High School senior at the Sac-Joaquin Section Division V Championships and a trip to this week's Masters Meet. It also touched off an enthusiastic celebration by his Coyotes teammates at the Sonora High gym.
Mendoza, competing at 197 pounds, was the only Denair wrestler to survive the rugged two-day tournament. The top four in each weight class advanced to the Masters. The next closest Coyote was Richard Richards, who finished sixth at 140 pounds.
Mendoza put himself in a difficult spot Friday when he was pinned by Anthony Howard of Bret Harte in his first match. He rallied to win two consolation bracket matches Friday to stay alive, then pinned his first opponent Saturday.
That set up a rematch with Howard, with the winner guaranteed a spot in the top four and a berth in the Masters Meet.
"It was back and forth, like the first match," said Denair Coach Don Helnore. "This time, Luis caught the kid and pinned him. … Luis escaped a bear hug move and got his arms around him and just put him down on the mat.
"It was a real brute strength kind of move."
With that, the Coyotes celebrated and Mendoza moved to the third-place match, where he used a pair of two-point reversals in the second and third periods to defeat Riverbank's Jose Ariza.
"Luis almost pinned him at the end of the first round, but time expired," said Helnore.
By winning five of his six matches over the weekend, Mendoza raised his record to 18-11, which is slightly misleading. He's been dealing with a nagging football injury to his left shoulder most of the season, but came on strong to finish second at the Southern League championships.
"We've been monitoring it all season," said Helnore of the injury. "It really limited number of tournaments he competed in."
It is the first Masters appearance for Mendoza, who finished fifth at the Division V tournament last season. His first-round opponent will be Jay Johnson of Buhach Colony in Atwater.
The Masters Meet is Friday and Saturday at Stockton Arena. It pits 32 wrestlers in each weight class, with the top six qualifying for the State Meet on March 6-7 in Bakersfield.
Denair sent nine wrestlers to the Division V championships; four still were alive on the second day.
Richards, also a senior and runner-up at the SL Meet, won his first match Friday, but was knocked into the consolation bracket by Summerville's J.T. McCready. Richards won again Saturday morning and had a chance to make it to the top four, but fell behind Bret Hart's Alonzo Nails and was pinned "trying for a desperation move," said Helnore.
Jordan Cervantes, at 122 pounds, and Sam Davison, at 154 pounds, were eliminated earlier Saturday.
It was an especially disappointing finish for Davison, a senior who a week earlier had become the first Denair wrestler in two years to earn a Southern League title. He began the year at 170 pounds, but dropped down and found success at 154.
As a team, the Coyotes were a strong third in the Southern League, behind perennial powers Mariposa and Waterford.
"I was pretty satisfied with the season," Helnore said. "We made a lot of improvements and we were very competitive. I think we're on the verge. … We're losing five seniors, but we have five or six eighth-graders who will help the team. And the maturity of the other guys and progress they made will help us next year."