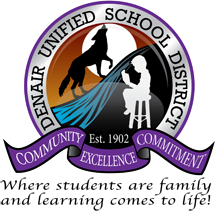 Submitted by Denair Unified School District
First, the good news: The Denair Unified School District has emerged from financial crisis a year ahead of schedule and no longer requires oversight from state-mandated advisers and the Stanislaus County Office of Education.
Next, the less good news: While the number of elementary students continues to grow, enrollment at Denair High School still is trending lower for 2015-16. Unless that changes, it will require the equivalent of two teaching positions be eliminated and a slight reduction in class offerings in the next school year.
Those contrasting reports shared the spotlight at Thursday night's meeting of the DUSD Board of Trustees, where the pride of having successfully navigated through near-bankruptcy was offset by the fiscal challenges that remain and the potential impact on the teaching staff.
Denair High School has 312 students this year, down from a high of 374 in 2006-07. By next fall, initial projections anticipate a decline to 270 students. To deal with that, trustees approved the elimination of a single class in 12 subject areas Thursday.
"What this effectively means is that there will be partial layoffs at our high school," Superintendent Aaron Rosander said.
A full-time instructor, he explained, teaches six sections, or classes, a day. It's likely, Rosander said, that some teachers will have less than six classes next year and see a corresponding reduction in pay.
"Whole teaching positions are not expected to be eliminated and our comprehensive high school with its college preparatory programs will remain solidly in place," he said.
State law requires that teachers be notified by March 15 if their jobs are in jeopardy in the next school year. Seniority and the kinds of teaching credentials they have will weigh heavily on which instructors are affected. In the case of equal seniority, the "reduction in force" resolution includes language giving preference to bilingual teachers and those with extra credentials.
Trustees also approved Rosander's proposal to reduce the science requirement for high school graduation from three years to two, matching what the state and most other school districts require. Denair added the higher requirement four years ago, but does not anticipate having enough students to offer physics next year. Higher-level courses in science and other subjects still will be available through the school's online program.
"We fully intend to re-implement it when the tide rises," Rosander said. "This simply allows us to allocate those teachers to other needs within the schedule."
Trustee Sandi Dirkse wanted to reassure parents that the high school's Academic Decathlon class – whose students recently finished third in the county competition – as well as college prep Advanced Placement courses will remain on the schedule.
"The courses and programs we currently offer at the high school are continuing?" she asked.
"Correct," responded high school Principal Aaron Delworth.
The board also approved a plan to grant up to $2,000 in incentive pay to teachers who let the district know by March 12 if they plan to retire or resign. Rosander said that the hiring of "less senior teachers" to replace those who might leave would have a "positive" effect on the budget.
"It's really, really hard to see these positions cut, but I'm grateful to see the work that goes into keeping the programs and classes for the kids because that's what it's all about," Dirkse said.
In a procedural move that happens each spring, trustees passed a motion to notify 16 hourly teachers at Denair Charter Academy that their jobs will end in June. DCA's enrollment, now at 320 mostly high school-age students, has been growing and Rosander anticipates most, if not all, of the affected teachers to be rehired this summer.
Total district enrollment this year is 1,294 students in kindergarten through high school, down from a peak of 1,600 in 2007-08. The sharpest decline has occurred at the high school, even as DCA and the two elementary campuses have seen increases.
The best news from Thursday's meeting were letters from Terri Ryland, a fiscal adviser assigned to the district by the State Department of Education in the fall of 2012, and the county office of education. Ryland praised the "herculean" effort of employees and board members, the community and the county office to bring DUSD back into "positive" budget status, which the county letter confirmed.
"Denair appears to have come out the other side and is in charge of its own financial destiny," Ryland wrote while stressing the need "for cautious assumptions to avoid unpleasant surprises."
"You have much for which you should be proud," Ryland's letter says. "Keep up the good work, stay the course, and keep contributing to the students and parents who rely on and place trust in your leadership."
Rosander, who came to Denair early in 2014, agreed that the district "must remain fiscally cautious," but added, "I am proud of regaining our own independence and I couldn't be happier for our schools, employees and community."