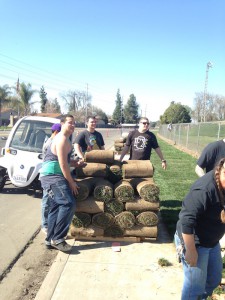 Submitted by Denair Unified School District
A dusty strip of land has an emerald green carpet of grass today, the final part of a collaborative community effort to boost pedestrian safety while also beautifying a busy intersection.
Denair High School students worked with district's maintenance Thursday to lay down sod alongside 700 feet of concrete sidewalk poured in early January on the north side of Monte Vista Avenue. The irrigation system previously had been installed.
The new sidewalk will improve safety and access to and from nearby Jack W. Lytton Stadium, the scene of football games in the fall as well as community events at other times of the year. It also benefits students attending any of the Denair Unified School District campuses around the corner on Lester Road.
The grass makes a much better visual impression to visitors driving into Denair's western entrance.
Donations worth about $5,000 paid for the sod and associated sprinkler system. The Denair Lions Club, the Education Foundation and the Farm and Family Festival made the largest donations, but individual community members also contributed. Stanislaus County Supervisor Vito Chiesa, who represents the area, arranged for Central Valley Concrete of Denair to donate the sidewalk work.
"I couldn't be happier about the project. I think it's another positive example of the commitment of the people who live here and go to school here to our community," said Denair schools Superintendent Aaron Rosander.