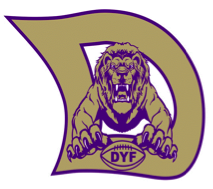 Submitted by Denair Youth Football
Denair Youth Football registration is open for the 2015 season.  Children ages 5-14 are invited to take part in football and cheerleading. All registration takes place online at the Denair Lions youth football web site. You can download the flyer here.
For more information contact Robert Mann at (209) 404-7243 for football, and Tiffany Avara at (209) 484-6748 for cheerleading.