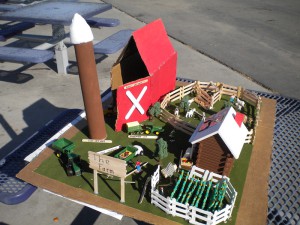 Submitted by Denair Unified School District
Denair Middle School science students became the teachers for a few minutes Friday morning, explaining the concepts of cellular structure to their elementary counterparts.
Seventh-graders from two of Barry Cole's biology classes built elaborate replicas of farms, military bases, an Old West town and even a futuristic community to help with their 15-minute presentations.
A farmhouse became the cell's "nucleus," a silo was the "cell wall," cattle and pigs were "ribosomes" and "lysosomes," farmland became "cytoplasm" and the barn substituted as a "vacuole."
The point, Cole explained, was to find "real-life applications for what these students are expected to know" as part of their life sciences instruction.
"On the very first day of class, I told them science is part of their everyday lives," Cole said. "What we did today is part of Common Core. They are expected to not just understand what an organelle is, but what an organelle does."
The seventh-graders spent most of the past month working on their projects and constructing their models. Friday morning, 12 teams of four or five students carried their work across the street to the elementary campus, ready to impart all they have learned in classes of first- to fifth-graders.
The older students already had made oral presentations in front of each other in their own classes, but Cole required them to come up with a different way of explaining cell structure to their younger peers.
"If forces them to be more serious," he said. "This helps them show me that they understand the subject matter."
Cole has taught in the Denair Unified School District for 26 years, but Friday was the first time he had his middle school students interact in this way with elementary students. He said administrators on both campuses were supportive, as were the elementary teachers.
"It went great," he beamed, saying it's likely to become an annual part of his approach to biology.
The science concepts may have been over the heads of most of the elementary students, but that doesn't mean learning didn't take place.
First-grade teacher Kelly Beard said her students asked questions about what the models were made of, how long they took to build and where the seventh-graders found little toy pigs.
"One of my little guys doesn't know what protein is," Beard said, "but he said his daddy puts it in his smoothie every morning."