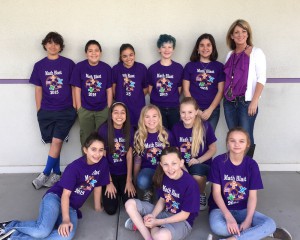 Submitted by Denair Unified School District
A team from Denair Middle School will compete in the annual Sixth Grade Math Blast on Saturday at Modesto Junior College.
The competition pits students representing about a dozen schools from districts throughout Stanislaus County. There are categories for individuals as well as two-member teams.
Denair's team – coached by Linda Richardson – was chosen in January and has been practicing during the students' lunch period.
"I like the practice because it helps make me better in class," said Jocelyn Gauthier.
"I like to solve problems that are hard, like three-digit exponents," added Dena Gabriel.
"It's fun," said Brielle Prock.
Other members of the Denair team are Madison Ainslie, Ayla Monte, Allison Neal, Amy Schmit, Isabella Libby, Eric Aguilar and Anthony Tullio.
The Math Blast tests students in division, multiplication, geometry, fractions and basic algebra. The top three individuals and top three teams are recognized.
The competition is 8:30 a.m. to 12:30 p.m. at the Science Community Center on the MJC West Campus, 2201 Blue Gum Ave. The event is sponsored by the Stanislaus Math Council.