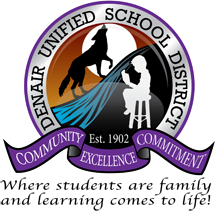 Submitted by Denair Unified School District
Potential kindergarten enrollment is only one small measure of public enthusiasm for the proposed Denair Elementary Charter Academy. Still, the early response is overwhelmingly positive.
Already, there are 88 children signed up for kindergarten next fall. That compares to 85 kindergartners on the two elementary campuses today.
"We typically have two-thirds of our enrollment by mid-March, so that's very good," elementary Principal Sara Michelena told Denair Unified School District trustees Thursday night.
The meeting was the first opportunity for the board and members of the public to review plans for a revamped elementary charter school, which will be known as DECA beginning with the 2015-16 school year. It will replace the separate and adjacent elementary programs that exist today — Denair Elementary School and the Denair Academic Avenues.
One of the primary goals in writing a new charter, Michelena explained, was to blend the best of both current campuses, which together have about 500 students in kindergartens through fifth grade.
A key attraction for parents of current charter school students has been the Spanish component. Michelena said DECA will build upon that, offering all students 30 minutes of Spanish instruction Monday through Thursday. And DECA will introduce a dual immersion option for kindergarten where students will be taught 90% in Spanish and 10% in English.
Already, there are 26 students signed up for that class, with five more on a waiting list. A second class could be added if there 40 students, Michelena said. Going forward, she said the intent is to add a dual immersion class at successive grade levels each year as the first group of kindergartners gets older.
She also is working to create a Spanish lab for all students.
"Our students at DECA will learn to think and act in a global community," said Spanish teacher Donna Williams in a letter read to the board by fellow teacher Patti Morrissey. Williams was at a training event and couldn't attend Thursday night's meeting.
In addition to Spanish, DECA's curriculum will be rich with core subjects such as language arts, math, science, social science and physical education. Electives will include drama, music, art, dance and computer instruction.
There also will be an emphasis on building a college-going culture among children.
Writing a new charter has taken four months. Michelena said the 23 elementary teachers were key partners in that process.
First-grade teacher Kelly Beard said having unanimous staff support for the charter petition is "amazing." She told trustees that was the result of staff being able to "provide input and voice suggestions."
Trustee Sandi Dirkse asked Michelena if there have been any concerns expressed.
"One of the misconceptions is that it's going to be a big, giant school," Michelena said. "Truthfully, it's still pretty small. … The hardest thing right now is the schedule because we want to put so much into it. We want to have music in it. We want computers in it. We have to put PE into it."
The board took no action Thursday night, but will be expected to adopt the charter petition at its April 16 meeting. The state Department of Education also must grant its approval; that should happen by early July.
"There is no other program like it in our region," said Beard. "We're all very excited."
Trustees also heard an upbeat financial report from Linda Covello, the district's chief budget officer.
The best news? Denair has been removed from the state's watch list of districts deemed to be in financial difficulty. DUSD landed there in 2013 after it was slow to reduce spending in the face of revenue losses related to declining enrollment, especially at Denair High School.
"We're no longer on the 'bad' list," reported Covello to sighs of relief and murmurs of approval from board members and the audience.
She said the district expects to finish this year with $35,000 left from its $8 million budget, plus an estimated reserve of $267,000. Her three-year projection is for continued fiscal health.
"We want to make sure everything is on track with our recovery plan, even though we're ahead of schedule by 18 months," Covello said.
Superintendent Aaron Rosander summed up the positive outlook. "This is great news for our community," he said.