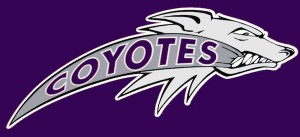 Submitted by Denair Unified School District
Four men have been interviewed to become the next football coach at Denair High School, a vacancy unexpectedly created by Ted Howze's engagement and recent decision to move to Stockton with his fiancée.
Two finalists will advance to the next round of the interview process and a new coach could be introduced by the end of the month, said Denair High School Principal Aaron Delworth. The applicants include coaches from the region as well as outside the area, he said.
"We are very sad to see Ted go. He brought fire and passion back to the football program," said Delworth. "Players walked taller in the hallways and the conversations on Fridays were always positive. He did a great job in rejuvenating our program and bringing pride back to the school. …
"Our focus now is to find a coach who will bring the same fire and passion, and continue the process of building a dominant football program. We have very high expectations for our program and will need a coach who shares our vision."
Superintendent Aaron Rosander also credited Howze with establishing "a strong foundation upon which a new era in DHS football can be built." He said the school is "looking not only for a qualified football coach, but for an individual with exemplary leadership skills who transmits pride, energy and a passion for excellence across the entire school."
Howze, 48, a large-animal veterinarian by trade, was a non-traditional choice last spring to take over the Coyotes' program, which had fallen on hard times after previous success. Denair was winless in 2013, but improved to 3-7 last fall despite finishing the season with only 20 varsity players. Howze used a deceptive single-wing offense and hustling defense to re-establish the Coyotes as a competitive team in the Southern League.
He described his mood as "melancholy" when it became clear that his new life would not allow him a chance at a second season. He and his fiancée, Laura Wilkinson, began dating last fall. She heads the math department at St. Mary's High School in Stockton, where they have bought a home together. They became engaged in January.
"It was an extremely difficult," Howze said of having to tell his Denair players he would not be returning. "Circumstances changed so rapidly in our personal lives. We met, had common interests, fell in love. My kids fell in love with her and we've become a family."
Until a few weeks ago, Howze said the plan was for him to stay in Denair until his youngest son, who is a sophomore at the high school, could graduate. Howze has a strong connection to Denair High. His late wife, Sharon, was an assistant track coach for the Coyotes. Their oldest son graduated last year and their middle son will do so next month.
"Denair will always be in my blood," he said. "Everyone in Denair has been wonderful to us."
Despite his brief time as the Coyotes' varsity coach, Howze believes the seeds have been planted for continued improvement.
"I love the program and I think we've left it in good shape for the next coach," he said. "We put in a lot of hard work and the kids really responded."
Howze had enjoyed plenty of success as a youth coach before he was hired at Denair. He expects to continue his football coaching career as a defensive assistant at St. Mary's.