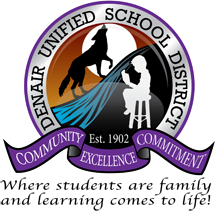 Submitted by Denair Unified School District
Denair Unified School District trustees enthusiastically approved a plan Thursday night to create a new elementary charter school for next year that would combine Spanish instruction for all students with rigorous core subjects and exposure to fine arts.
One of the unique features of the Denair Elementary Charter Academy, or DECA, would be a dual immersion English/Spanish class for kindergarteners. The class would follow the 90% Spanish and 10% English dual immersion model, said Principal Sara Michelena. The goal is to have a 50/50 mix of English and Spanish speakers. The intent, she said, is to add a dual immersion class at successive grade levels each year as the first group of kindergartners gets older.
Response has been strong, Michelena said. Already, 36 kindergarteners have signed up for the immersion program.
"We are creating our very own, very unique program," said Superintendent Aaron Rosander. "We will be the pre-eminent leader of this kind of education in our region."
DECA would replace the current charter program, known as Denair Academic Avenues. Denair Elementary School, which shares the same campus today, will technically remain in existence, though district officials expect most of the students to enroll in the DECA program. Students in the same grade level will be in the same class for the core programs, but DECA students will have access to more electives.
"Because this is such a powerful program, we think the choice is easy," Rosander said.
Trustee Sandi Dirkse said the early community reaction to the new charter has been tremendous.
"The energy and buzz around town is very positive," she said. "I'm hearing from parents who are very excited."
DECA's mission, according to the proposed new charter, "is to provide students with an engaging, nurturing, equitable learning environment that promotes the development of skills necessary for the 21st century."
In addition to the immersion program, all DECA students also will have regular Spanish instruction, Michelena said. In addition, the new charter school would have two 30-station computer labs to teach tech skills and would continue to focus on arts enrichment for all students. Even at the elementary level, there will be an emphasis on building a college-going culture and "assist students to become self-motivated, competent, lifelong learners."
Trustees voted 4-0 to adopt the new charter, with Kathi Dunham-Filson absent. The proposal now goes to the state Department of Education for final approval.
In other action, trustees:
Approved a tentative agreement with the California School Employees' Association, which represents 58 men and women who are not teachers. The deal modifies language in the current deal and adds three sick days, but does not include any salary increases.
Listened as Rosander announced changes to his senior management team for the next year. Michelle Bush, the principal at Denair Charter Academy, will become the new senior director of curriculum and instruction, student support services and state preschool. Aaron Delworth, who currently is principal at the high school and middle school, will serve exclusively at the middle school in 2015-16. Recruitment will begin immediately for new principals at the high school and DCA.
Heard a report from Food Services Director Billy Reid, who described a variety of upcoming changes, including a revamped and expanded Culinary Coyote menu at the high school.
Thanked the Turlock Little League for the volunteer work done to improve the high school baseball and softball fields.
Heard an update from Rosander about water conservation efforts. He said the most obvious result of reductions in district use will be drier sports fields and other landscaping.