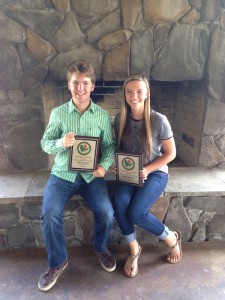 Submitted by Denair Unified School District
Two of Denair High School's top students were honored this week by the Southern League for their academic and athletic accomplishments.
Andrew Knapp and Kaelee Martinez have excelled in the classroom and as four-year members of the Coyotes' sports teams, and have been actively involved with various school clubs and volunteering in the community.
Knapp carries a 4.34 grade-point average, ranking him first in Denair's 82-member senior class. He led the Academic Decathlon team to a third-place finish in the Stanislaus County competition earlier this year, scoring the most points in school history. He also has played varsity tennis and soccer all four years, is a member of the county Leadership Academy, the high school Drama Club, is president of Denair Matters, volunteers at the We Care Men's Shelter in Turlock and plays guitar at his church.
"I can say without hesitation that he is one of the finest students it has ever been my pleasure to teach," said Paul Michaelis, a former Denair math teacher, Academic Decathlon adviser and tennis coach. "… Whether it is soccer or tennis, Andrew is the type of athlete that every coach wants to have on the team. He works hard to better himself in both the physical and mental sides of sports. He leads his team by example, putting in the extra time and work necessary to be successful."
Knapp will major in biology and music at Fresno State University, and said his goal is to become a high school teacher.
"Andrew is diligent in the classroom and in all of his extracurricular activities. He strives for excellence in everything he does," praised Denair High Principal Aaron Delworth.
Added teacher and Athletic Director Darrin Allen: "I look forward to seeing what he will accomplish in the future."
Martinez has a 4.1 GPA, ranking her eighth in Denair's senior class. She played varsity tennis for three years, is the senior class president and student representative on the school board, the editor of the yearbook and the prom commissioner, a member of the PHAST (Protecting Health and Slamming Tobacco) Club and has been a cheerleader. Away from school, she volunteers at the Covenant Village care center and has been an instructor at youth tennis camps.
She plans to attend either the University of the Pacific or UC Merced, with plans for a career in public relations or as an event planner in a skilled nursing facility.
"Kaelee is a model student," Delworth said. "She always puts others first and is full of energy. … Kaelee is the type of student that teachers and administrators would like to replicate 100 times over."
Allen said Martinez "works very hard inside and outside the classroom to help improve our school. Her organizational skills and ability to lead others is very impressive."
Added tennis coach Bill Weber: "I am amazed at the commitment and time management skills she demonstrates. She is fully involved in many activities. … She demonstrates a passion toward serving others."
The Southern League recognized one boy and one girl from each of its eight member schools. Student athletes from Mariposa and Gustine were selected as overall winners. They will be eligible for scholarships from the CIF Sac-Joaquin Section, which governs high school sports from Sacramento to Merced.