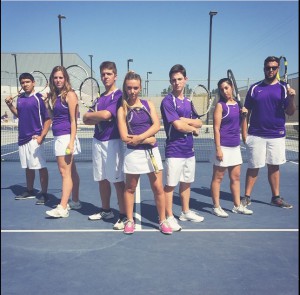 Submitted by Denair Unified School District
Bill Weber's goal was to teach Denair High School tennis players enough about the game so they could compete for a Southern League championship this season. A little education about classic rock bands from the '70s was a bonus.
Mission accomplished on both ends.
The Coyotes (12-3) battled for the top spot in the SL all spring before finishing second behind Ripon Christian High School (13-2) – a squad whose only two defeats came to Denair. The only things separating Denair from at least a piece of the league championship were two losses to Delhi, which finished third.
Weber is a longtime coach with a lengthy record of success at many levels. This is his first season at Denair and he said he especially enjoyed watching his players – some with limited competitive experience in tennis – blossom along the way.
His goal is to make the sport fun. To that end, he often incorporates music from his own high school days – the 1970s – into practices. This spring, the Coyotes were exposed to rock anthems from power bands like Boston, Kansas, REO Speedwagon and Queen.
As the year progressed, it was another classic song – "Takin' Care of Business" by Bachman-Turner Overdrive – that seemed to best capture the spirit of the team. At the Southern League singles and doubles tournaments Thursday and Friday at Merced Junior College, the Coyotes will be sporting T-shirts with the song's title on the back.
"It just kind of evolved. It fits us and the kids seem to enjoy that song," Weber said.
On the court, three Denair players have been perfect this season. Top boys singles players Brian Dudley and Andrew Knapp and No. 1 girls player Abi Wilson all are 15-0. They will be favorites to advance to the Sac-Joaquin Section championships May 7-8 at Oak Park in Stockton.
As a team, the Coyotes also are still alive. They will host the third-place team from the Mother Lode League on Monday. The winner will play at the Pioneer League Champion the next day.
"There's been a lot of improvement in our team," said Weber, citing right-handed doubles player Saul Mendoza as someone who epitomizes the Coyotes' attitude.
"He's just one of those kids who know how to compete. He's a wrestler and he played a couple of weeks with broken fingers on his left hand," Weber praised. "He's come a long way."