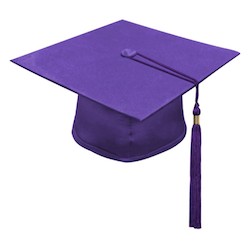 Submitted by Denair Unified School District
Denair High School continues to perform well above the state and county averages in graduating its students, according to CA Graduation Statistics by the California Department of Education.
In 2014, 74 of 79 seniors graduated from Denair High, a rate of 93.7%. That compares to a statewide average of 80.4% and a Stanislaus County graduation rate of 82%.
"Student graduation rates reflect the dedication of our community and schools to the education and success of our students. No child left behind is not a platitude or vacant slogan at Denair schools but, rather, a practice and commitment to our students," said Aaron Rosander, superintendent of the Denair Unified School District.
Denair has long been one of the high-achieving high schools in the county when measured by graduation rates and student performance. The rate was 98.7% (75 of 76) in 2013, 98.8% (84 of 85) in 2012 and 100% (74 of 74) in 2011.
"Denair High School, and particularly our learning director, tracks student progress very closely throughout the year," said Principal Aaron Delworth. "We have been very pleased with our graduation rate over the years and will continue to strive a for 100% graduation rate."
Many of Denair's graduates attended public and private universities in California like University of California, Los Angeles, California State University, Stanislaus, California State University, Fresno and the University of the Pacific, while others have been accepted at prestigious colleges out of state.
College attendance is emphasized and encouraged at all grade levels, there are career days to highlight specific job opportunities and the education required for them, and Denair High School's counselor works with students and their families on enrollment, grant and scholarship applications.
"We take groups to colleges in our area," Delworth explained. "The last two years, we targeted our Latino population and sent students to the Hispanic College Fair at UOP.  We will be taking freshman through juniors to the CSU College Fair on May 5."
Across the state, emphasis has been placed on the graduation rates of minority students, especially Latinos. In 2014, Denair High graduated 36 of 40 Latino seniors. Its rate of 90% exceeded that of the state (76.4%) and county (82%).
Denair Unified School District overall graduation numbers also include those students at Denair Charter Academy, which provides comprehensive independent learning opportunities for at-risk teens, those who have struggled in a traditional setting or others who prefer an alternative to mainstream public education.
DCA's graduation rate improved to 62.3% (76 of 122 students) in 2014 from 59.8% (55 of 92) in 2011. Last year's number does not reflect the 21 seniors who did not graduate in the spring, but still are enrolled in DCA as they pursue their diplomas. The school also doesn't get credit for students who get their educational careers back on track at DCA and then return to their original campuses to graduate.
"I think the biggest thing is we actually have students who have longevity in our program. They're not just coming their senior year for credit recovery," said DCA Principal Michelle Bush. "We have a graduate this year who has been in our program since third grade."