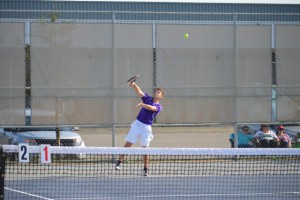 Submitted by Denair Unified School District
Denair's Brian Dudley won the boys singles championship and was named the Southern League's Most Valuable Player at the recent tennis tournament. Andrew Knapp and Abi Wilson brought the Coyotes a second title with their victory in mixed doubles.
Dudley, a senior, defeated Jake Van Vuren of Ripon Christian 6-2, 6-1 at the Merced College courts to extend his unbeaten record to 18-0 this season. He will be the Southern League's top seed when the Sac-Joaquin Section individual tournament begins Thursday at Oak Park in Stockton.
Knapp, a senior, and Wilson, a sophomore, knocked off a team from Delhi to win their championship. The tournament was the first time this season the Denair duo had played mixed doubles this year. That came about after both suffered their first losses of the season in the semifinals of the singles tournament.
Like Dudley, Knapp and Wilson advanced to the Section tournament later this week in Stockton.
For the rest of the Coyotes, the season ended Monday with a 6-3 loss to Summerville in the first round of the Section team tournament. Dudley, Knapp and Wilson won their singles matches, but the Bears prevailed in all the other matches.
Denair (12-3) finished second behind Ripon Christian in the SL this spring.