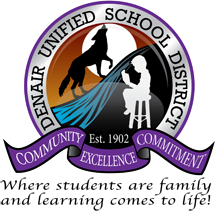 Submitted by Denair Unified School District
No teachers are losing their jobs, but four instructors will have reduced class schedules in 2015-16 because of projected enrollment declines at Denair High School.
There are 305 students currently at the high school, but only 270 are expected on campus for the first day of the 2015-16 school year when it begins Aug. 12. That disappointing trend required Denair Unified School District trustees to vote unanimously Thursday night to pare back the number of classes offered. If enrollment picks up, some of the teaching hours and classes could be restored.
Superintendent Aaron Rosander stated, "While it's unfortunate to layoff even partial teaching positions, this reduction is necessary due to a downtick in enrollment at the high school. Having said this, the overall enrollment trend for the District is beginning to show improvement. This should ultimately have a positive effect on Denair High School in future years".
The district needed to reduce teaching hours by the equivalent of two full-time positions, or 12 classes, trustees were told. The resignation of a part-time Spanish teacher provided one period. The teaching loads of four other teachers were reduced by one, two or three periods each to make up the balance.
No subject was eliminated. Small reductions occurred in English, math and science, civics and economics, world history, PE, health, computer science and Spanish.
Denair High School continues to perform well overall. Its graduation rate is among the highest in Stanislaus County. And the school stood out in the California High School Exit Exam, or CAHSEE, results released this week.
In 2014, 74 of 79 seniors graduated from the high school, a rate of 93.7%. That compares to a statewide average of 80.4% and a Stanislaus County graduation rate of 82%.
"Student graduation rates reflect the dedication of our community and schools to the education and success of our students," said Rosander, adding that many of Denair's graduates are accepted at public and private universities in California and out of state.
College attendance is emphasized and encouraged at all grade levels, there are career days to highlight specific job opportunities and the education required for them, and Denair High School's counselor works with students and their families on enrollment, grant and scholarship applications.
All students must pass the CAHSEE test before they can receive a high school diploma. It measures competency in reading, writing and mathematics. The test is given in two parts – English language arts and writing on one day; mathematics on a second day. Students must pass both sections and can have multiple opportunities to retake either part.
At Denair, 85% of students passed both portions of the test on their first attempt as sophomores.
In other action Thursday night, trustees approved Rosander's plan to restructure his administrative team for the next school year.
Michelle Bush, who has been the principal at Denair Charter Academy the past two years, will move to the newly retitled position of Senior Director of Curriculum and Instruction, Student Support Services and Preschool Education.
Aaron Delworth, who has been principal at the high school and middle school, will lead Denair Middle School exclusively in 2015-16.
Recruitment is under way for the principal vacancies at the high school as well as DCA. Rosander expects to have both positions filled by the end of June.