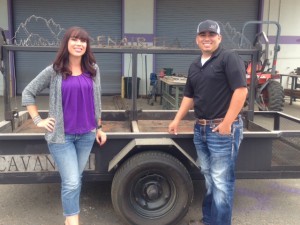 Submitted by Denair Unified School District
As Denair High School students and teachers anticipate classes resuming next week, nowhere is the excitement greater or expectations higher than in the ag department. Two new instructors have joined the staff, bringing with them energy and optimism that they can create the kind of program that will be a magnet for the brightest teens in and out of the district.
Though school doesn't begin until Aug. 12, Matthew Marshall and Madison Weigel spent much of July getting to know their students, organizing lesson plans and strategizing about course offerings. The Stanislaus County Fair from July 10-19 gave them a perfect chance to interact with Denair's FFA students who were showing animals and a three-day FFA leadership retreat last week in San Luis Obispo was another opportune time to bond.
Now, Marshall and Weigel are ready to go.
"The community is itching for an ag program that will benefit students and keep them here in Denair," said Marshall, whose emphasis will be on ag mechanics, landscape management and ag science.
"We want to teach them ag, but we also want to teach them life skills that they can apply to any career," explained Weigel, whose focus will be on ag and earth science, ag biology, ag leadership, floral design and horticulture. She also will teach a physical science class at Denair Middle School.
Marshall and Weigel understand the importance of a quality ag program at a rural school like Denair. At similar-sized high schools like Hughson, Hilmar, Waterford or Orestimba, ag classes are popular draws for all students.
Not every student lives on a farm or aspires to a career in agribusiness, but most have a basic appreciation of the value of the nearby orchards, dairies and fields that are a part of everyday life. Many have family members somehow involved in ag or related businesses.
"A strong agricultural program will deliver a high-quality, comprehensive curriculum and hands-on training and practice in our school in order to ensure our students are a valuable source of employable, trained and skilled individuals," said first-year Principal Alecia Myers. "The importance of this program is immeasurable, as it truly is the pride and success of many of our students and their families."
At Denair, all students are slotted into introductory ag classes, which automatically make them FFA members. Still, only about 40 students out of nearly 300 participated in the county fair this summer. And none entered mechanical or landscape projects – something Marshall wants to change. "That's one thing we can really improve on. It doesn't have to be all animals," he said.
The new teachers said their first-year goals are to:
Increase enrollment and retention in ag classes. Participation typically has dropped in the upper grade levels.
Emphasize shop and horticulture projects that develop important communications and critical thinking skills.
Begin to create subject "pathways" with integrated three- and four-year programs so Denair students attain FFA degrees, which signify classroom achievement and leadership skills. There were none awarded at Denair in 2015.
Build community relationships.
Marshall and Weigel think there is a solid foundation upon which to grow. "We have an ag booster group of parents that help us put on events and fund raise," Marshall said. "And we have an ag advisory group to help us identify what the kids should be learning."
They would like to add a show barn where students can practice animal husbandry skills before the fair. They'd like to add more animal science classes. They'd love to have another truck to transport students, equipment and haul trailers. And Marshall already is trying to organize a tractor pull fundraiser.
Marshall, who grew up as a city kid in Turlock, knows first-hand the value of inspirational teachers. At Turlock High, his ag instructors "transformed" him and planted the seeds of a career. At Modesto Junior College, another mentor "guided me to teach ag." Marshall went on to get an ag science degree from Cal-Poly, San Luis Obispo, did his student teaching at Buhach Colony High in Atwater and spent last year as an ag instructor at Orestimba High in Newman.
Weigel was raised in Colusa, where her father is a welder and machine fabricator. In high school, she was a 4H and FFA member who showed hogs. Like Marshall, she was motivated toward an ag teaching career by role models at Colusa High and Chico State, where she majored in ag science with a minor in animal science. She spent last year student teaching in Orland, just west of Chico, before applying for the Denair job. "It's a small school in a small town, which is what I was looking for," she said.
The new teachers say there is no reason that Denair High can't quickly develop an ag program recognized for innovation, excitement and quality – even at a smaller school.
"It's definitely a positive opportunity. We get a chance to create a program from scratch," Marshall said. "I think a selling point for us is that at Pittman or Turlock, you're a number. We're a personable, know-everybody kind of program. If we're strategic, we can offer different classes, focus on the things we do really well and excite the kids."