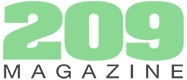 Submitted by Denair Unified School District
The students, their families and the faculty at Denair Charter Academy have long appreciated the quality of the personalized educational program available there. Now, the readers of 209 Magazine know, too.
DCA was named Best Charter School for 2015 in voting by the readers of the magazine, which serves much of the 209 area code from Manteca to Turlock. There were 15 charter schools nominated, said Krista Messer of Morris Newspaper Group, which publishes the magazine. More than 44,000 votes were cast online between April 1 and May 15.
Denair Charter Academy is an independent learning program for students who do not wish or are not able to attend a traditional classroom setting. It combines academic rigor and high-quality instruction with the flexibility necessary to meet each student's unique educational needs.
"Our ability to individualize education for all students sets us apart from other charter schools," said first-year DCA Principal Dawn Allen. "Students can come one hour a week. They can also sign up to take a variety of on-site classes, take classes online, participate in field trips, and participate in leadership roles in the community while working."
There are 30 kindergarten through eighth-graders enrolled in DCA's home-school program and 186 high school students on independent study. High school enrollment typically grows as teens are referred from officials in other districts who recognize the positive impact of the DCA program. Even in the first week of school, Allen said enrollment is growing by about 10 students a day.