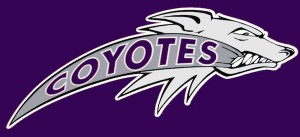 Submitted by Denair Unified School District
It was a learning opportunity. Sure, Anthony Armas and his Denair High football players had every expectation of playing to win Friday night on the road against Summerville. But a ragged first half full of opening-night nerves and a few key mistakes torpedoed the less experienced Coyotes early as the Bears raced to a 28-0 advantage.
Denair regrouped at halftime and settled down to play a cleaner game in the final two quarters, scoring twice while holding the Bears to a single touchdown. The final score was 34-13, a margin Armas said didn't fully reflect how competitive his side was.
"I think we're still young and we're still learning," the first-year coach said. "Defensively, we made some alignment mistakes in the first half and they cost us. Offensively, we're getting better, but we had some guys who were a little unsure early on."
Those breakdowns were reflected in each team's first possession, Armas said.
Denair got the kickoff and had driven to midfield when it had a pass intercepted. On Summerville's first offensive play, the Bears ran a halfback option on which the running back faked a sweep. Instead, with Denair's defenders closing fast to stop the run, the back lobbed a pass to a wide open receiver behind the Denair secondary. Just like that, it was 7-0 Summerville.
Summerville controlled the line of scrimmage the rest of the first half, scoring three more times on a night in which the scoreboard and clock never worked. It went out during the junior varsity game, Armas said, forcing the officials to keep the time on the field and constantly update both teams.
It was an odd start to Armas' head coaching career. Friday was the Denair graduate's first time in charge after many years as an assistant at Denair and Pitman High in Turlock.
"I don't know that I've ever been in a game that the clock didn't work the whole time," Armas said. "It was strange."
At halftime, Armas and his assistants focused on each of their position groups. There were no big "rah-rah speeches," he said. "It was just here's what we're doing on offense and here's what we're doing on defense."
Their butterflies settled, the Denair players "started flying around on defense" and played error-free on offense in the second half, Armas said.
Two solid drives resulted in touchdown runs by Justin Steely and Kyle Prock late in the game, providing a confidence boost for the entire team.
"Offensively, we're pretty close to where we need to be," Armas said. "It was just one mistake here, one mistake there. There's just so much the players need to see in a game to help them improve. … Defensively, we were much more active in the second half."
In addition to Steely, the coach said his other backs – Juan Berrera and Nick Hake – played well. He also praised the efforts of linemen Kyle Perkins and Joe Brazil.
In the end, he said, it was just as important for a new coaching staff to see the players in a game situation as it was for the players to gain the experience.
"It's just fixing up little things offensively and defensively. Understanding our keys," Armas said. "We've got to play a little faster. If the kids need a break, we'll get someone else in there."
There will be plenty of time to teach before the Coyotes' next game. Their mandatory bye comes this week; they won't play again until the home opener Sept. 11 at Jack Lytton Stadium against Brookside Christian.
In the junior varsity game, Denair was defeated 42-12 by Summerville.