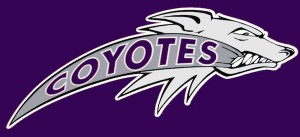 Submitted by Denair Unified School District
The players won't be the only ones trying to calm their nerves Friday night when Denair High School begins the 2015 football season on the road against Summerville. New head coach Anthony Armas also will be patrolling the sidelines for the first time as the man in charge.
The season opener represents a homecoming for Armas, a former lineman who graduated from Denair in 1997. He spent five years as a varsity assistant in Denair after earning his degree from CSU Stanislaus and has been an assistant coach at Pitman High School in Turlock since 2008. He also has been involved with the Denair Youth Football League.
He inherits a team that went 3-7 last season and played hard despite a thin varsity roster. Added to the mix this fall is a talented group of JV players, who gained confidence with five victories a year ago. Armas and his staff reason believe Denair is poised to surprise.
"They're a hard-working group. Most of the juniors have been together since youth football," said Armas, who said his goal is simple. "We are hoping to make the playoffs and develop a culture of success at Denair High School."
Armas singled out senior lineman Kyle Perkins, senior running back and linebacker Juan Barrera and junior running back and linebacker Justin Seeley as among his top returnees. He said junior quarterback Kyle Prock, junior lineman Hector Obando and sophomore linebacker Joey Freitas are among the best of the first-year varsity players.
Depth was an issue at the varsity level last season. The Coyotes only had about 20 players until their final game, when they promoted some of the JV players. This fall, there are 24 players at practice – a few less than participated in summer workouts. Armas expects as many as 10 players to play extensively on offense and defense.
On offense, Armas expects to run the Wing-T, which was the system used when he was a center on the Denair High team and what he coached while at Pitman. It's similar to the motion offense Denair used last fall that relies on misdirection and leverage rather than pure strength. One major difference is rather than taking direct snaps a few yards behind the line, the quarterback lines up under center in the Wing-T with a wingback and tight end on either side and a fullback and dive back behind him.
"We can use smaller lineman. We can use angles. We're not going to go straight at guys and try to drive them," Armas said. "Pitman runs it, Oakdale High School runs it, Escalon High School runs it. A lot of teams across the board."
Defensively, he favors a four-man front but said the game-to-game scheme "depends upon the offense we'll be facing," adding that "a lot of teams like to spread it out."
At Saturday's four-way scrimmage in Linden High School, Armas could tell his players "are starting to understand the offensive and defensive schemes."
"Offensively, I thought we played fast, for the most part. We are still figuring things out on that side of the ball," he said. "Defensively, I thought we pursued the ball really well and schematically, we were where we were supposed to be."
The Coyotes have something of a quirky schedule and will only play once at home in the first month. After facing Summerville, they have a week off for their mandatory bye before welcoming Brookside Christian of Stockton on Sept. 11. Then it's two more road games, including the Southern League opener at Delhi High School.
Denair will spend most of October at home with conference games against Mariposa High School, Gustine High School, Orestimba High School and Le Grand High School.
2015 Denair Coyotes Football Schedule
Date                      Opponent                     Place         Kickoff
Friday, Aug. 28                Summerville Union                    Away                7:30 p.m.
Friday, Sept. 4                 Bye
Friday, Sept. 11              Brookside Christian                Home               7:30 p.m.
Friday, Sept. 18               Argonaut                                   Away                 7:30 p.m.
Friday, Sept. 25*              Delhi                                         Away                 7:30 p.m.
Friday, Oct. 2*                Mariposa                                 Home                7:30 p.m.
Friday, Oct. 9*                Gustine                                    Home                7:30 p.m.
Friday, Oct. 16*              Orestimba High                      Home                7:30 p.m.
Friday, Oct. 23*               Ripon Christian                         Away                 7:30 p.m.
Friday, Oct. 30*              Le Grand High                        Home                7:30 PM
Friday, Nov. 6*                Waterford                                  Away                 7:30 PM
*Denotes Southern League game