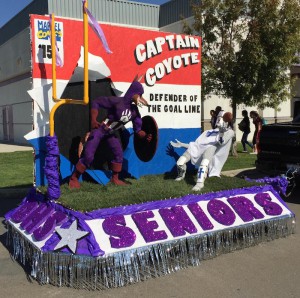 Submitted by Denair High School
School has started and Denair High School's student body has got big plans this year. Last year we stepped up our game when it came to float building, and we'd like to continue to improve this year after year. Last year, TJ McDonald took our float trailers and added some solid skirting around them which made decorating them much easier and allowed for a much more professional looking product. This was no small task and it was greatly appreciated. This year Richard Bettencourt and Mr. Stavrianoudakis are constructing permanent solid backboards to add stability and safety for when the floats travel down the road. If time permits, they are also planning to add an electrical outlet to each corner of the trailers to make for easy plugging in of Christmas lights, fog machines, stereos, etc. Future goals include the addition of moving parts. It's a lofty goal, but one that leadership believes is possible.
As the title should have clued you in, this year's theme will be "Dr. Seuss" and the students have begun planning and are very excited. Just as last year, the Leadership class and Art department will be coordinating the construction of the floats. The backboards will be drawn and painted in the leadership room and outside lawn area, while the float figures will built in the Art room.
Last year's parade turned out to be an amazing community event that brought a lot of people together, and this year should prove to be the same. A lot of team effort and work goes not into just the float building, but the entire Homecoming parade, game, and event as well. We could, however, use some help. This year's budget is $500 for all four floats. This is nearly the same amount that has been allotted for over a generation and with today's prices of materials, this doesn't go very far. So the ASB, and the classes of 2016, '17, '18, and '19 are asking the community to join in on the spirit, and help out with either funding or materials. The high school would like to give much thanks to Denair Lumber and Richard Bettencourt who have already supplied and paid for some of the lumber. Materials are going to be needed to build the figures and other elements that occupy the float real estate. If you are able to provide any of the following items it would be greatly appreciated:
Chicken wire, or aviary netting
1-1/2" 4ft X 8ft Styrofoam Insulation Sheets
Duct tape
Masking tape
Cardboard (Large preferred, but any is good)
Newspaper
Styrofoam wig heads
Tie Wire for rebar
Foam stuffing
Rags
Disposable paint brushes
1-1/4" Drywall screws
3" deck screws
Angle braces (4" to 10")
Small eye hooks
Fake grass large enough for a 5'x10' area
Cash donation
To donate please contact Robyn Hilton (632-9911 ext. 4244, rhilton@dusd.k12.ca.us) or John Stavrianoudakis (632-9911 ext. 4226, jstav@dusd.k12.ca.us) so that they can communicate with donors about material needs that may or may not have been met. For cash donations, checks may be made payable to "DHS" and dropped off at the HS office or given to Mrs. Hilton.
GO DENAIR!