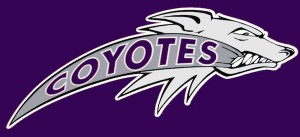 Submitted by Denair Unified School District
Mistakes and missed assignments doomed Denair in its 35-12 preseason loss Friday night to Argonaut, which played an inspired game in the midst of the Valley fire that has ravaged more than 71,000 acres in and around Calaveras County.
Many of the players, coaches and fans of the Argonaut team no doubt have been affected by the wildfire, which has destroyed more than 500 homes. But Friday night, it was the Coyotes who got burned by too many self-inflicted errors.
Denair (1-2) will be focused on cleaning up those mistakes this week at practice, said head coach Anthony Armas.
"Alignment and assignment," said Armas when asked what the emphasis will be this week. "Knowing where we align, what our assignment is on each play and executing that assignment."
On deck for the Coyotes in their first Southern League game is unbeaten Delhi, which has outscored its three non-conference opponents 142-35. Kickoff is Friday at 7:30 p.m. at Delhi.
"I know that Delhi is undefeated and they're physical. Every game from here on out will be tough," Armas said.
Against Argonaut (2-1), Denair scored on a 29-yard run by Juan Berrera in the second quarter and a 1-yard run by Chase Pritt in third period. That wasn't nearly enough to overcome a motivated Mustangs team that had played and lost just five days earlier. Argonaut's game against Bear River was moved from Jackson to Grass Valley because of the fire.
"We didn't execute very well," Armas said. "We made a lot of mistakes and we can't afford to do that against a team like Argonaut."
Armas said the fire had "zero affect" on the game, though it wasn't far from anyone's mind.
"It was a nice evening," he said. "It was their homecoming, so there was a lot going on, but they certainly paid tribute to the firefighters. I believe their coaches were wearing shirts with the Fire Department name on them."