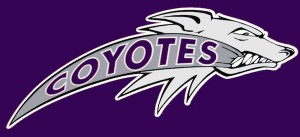 Submitted by Denair Unified School District
Denair's defense played its best game of the season in Friday night's 20-14 Southern League victory over Delhi. And, fittingly, it was the defense that came through on the most pivotal play.
With two minutes to play and Denair leading 14-7, Delhi was faced with a fourth-and-6 from the Denair 33-yard-line. The Hawks decided to go for a first down. But the strategy backfired when Coyotes lineman Dylan Mann broke free, sacked the Delhi quarterback and caused a fumble. Outside linebacker Juan Barrera scooped up the loose ball and raced 65 yards for the clinching touchdown, setting off a wild celebration on the Denair sideline and in the visiting stands.
In fact, Denair (2-2 overall, 1-0 SL) celebrated a little too long, drew a 15-yard penalty and had to kick off from its own 25-yard line.
Delhi (3-1, 0-1) nearly ran the kick back, then scored a few plays later to trim Denair's lead to 20-14 with about a minute to play.
The Hawks went for an onside kick, but Denair recovered and ran out the clock to end the hard-fought game.
It was Denair's first road victory in three tries this season, something Coach Anthony Armas said is an important sign of growth for his young team.
"We had talked about learning to travel because our two previous road games didn't turn out the way we would have liked them to. I think we are learning how to travel," said Armas, whose squad had sandwiched away losses to Summerville and Argonaut around a home victory over Brookside Christian.
Armas said Denair's defensive – led by linemen Gio Flores and Jarred Carbajal – controlled the line of scrimmage after Delhi scored a first-quarter touchdown. On offense, he singled out Joey Freitas, who made his first start at center.
"We didn't change anything schematically. We just tried to improve some of the things we had been doing," Armas said.
Denair cut Delhi's lead at halftime to 7-6 on the first of Barrera's two touchdowns on offense, then took the lead for good in the third period on his second scoring run. Kyle Prock passed to Justin Steeley for a two-point conversion to put the Coyotes ahead 14-7, setting the stage for Mann's and Barrera's heroics late in the game.
"It was great to see our team win our first league game against a team that was undefeated and very well coached," Armas said. "Having said that, it was one game and we are moving on to Mariposa."
The Grizzlies (2-1, 1-0) are coming off a 48-6 victory over Waterford in their Southern League opener. Friday's game will start at 7:30 p.m. at Jack Lytton Stadium.
"Mariposa is always tough. Their kids are physical and they run a pretty complex offense," Armas said. "We will once again focus on alignment, assignment and playing good assignment football on both sides of the ball."